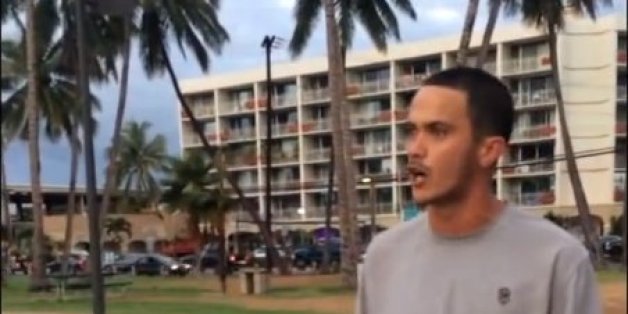 UPDATE: The man in the video has been identified as a "21-year old man, with a criminal past," and Maui Police say the case is under investigation and is being forwarded to prosecutors.
A profanity-laced, racially charged smartphone video has gone viral on Reddit, in a post titled, "This is how the 'locals' of Maui, Hawaii, treat tourists."
The video, posted by social media news outlet MAUIWatch, captured a confrontation between a group of visitors and an unidentified man who goes on a long rant about "white people" taking land. It appears the confrontation started over someone's dog.
According to MAUIWatch's Facebook page, "(The dog) belonged to another group sitting at a third table. When the video taker witnessed the dog owner throw something at the dog and said something about it, the local male in the video came from the side and got involved, backing the dog owner."
The Reddit post has more than 1,000 comments, and the video has more than 40,000 views since being posted. The comments paint a racially charged picture, including defense that not all local residents act like this and confirmations of similar incidents in Maui.
One Reddit user said, "But I can confirm that there is a great degree of local hostility, so that this is not an invalid generalization. Surely not all locals feel this way, but many do."
Hawaii is often praised as a melting pot, and President Obama has said, Hawaii "exemplifies the values we hold dear as a nation." But the video shows racial tension can still reach a boiling point in certain situations.
Warning: The below video includes offensive language.
SUBSCRIBE TO & FOLLOW LIFESTYLE
We're basically your best friend… with better taste. Learn more