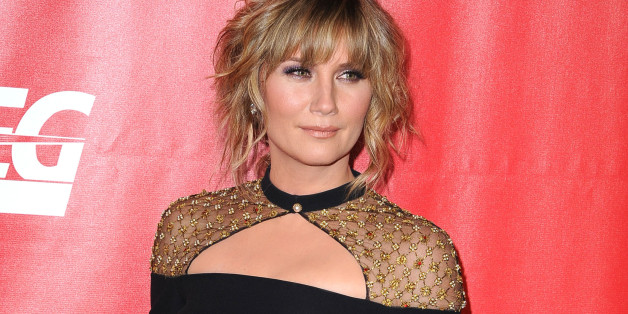 Lesbian rumors have followed Sugarland songstress Jennifer Nettles for some years, due in part to lyrics like "It's crotch propaganda /Bat for both teams /and it's me not choosing sides/ Standing in between."
The 39-year-old country star opened up to PrideSource about the gay rumors -- and the "On the Shoulders of Giants" lyrics -- in an interview published Tuesday.
"I had such a strong lesbian following, and in the gay community as a whole, I've always had so much support from them," she said. "I think a lot of people assumed, too. Whenever they heard a woman with an alto voice playing an acoustic instrument stylistically reminiscent of those wonderful icons you counted, Ani DiFranco and Indigo Girls - and especially with the audience I had in my 20s - I think a lot of people just assumed that (I was lesbian). So those lyrics ... I definitely related to because it's like, who cares? Why choose sides? And why do you have to?"
Nettles has been promoting equality for years. She says she has always felt a powerful connection with the lesbian, gay, bisexual and transgender (LGBT) community. In 2009, she told ChicagoPride her goal was to "celebrate the human condition" and sing about the human experiences in all walks of life.
She said she was "grateful" for her LGBT fans because they proved her music was able to "transcend categories."
Nettles says she hopes the landscape continues to transcend within the country music genre.
"It's exciting to see within the country genre," she told PrideSource, "yet at the same time, for me in terms of social motivation and evolution and moving forward, I always feel - be it within a music genre or a religious movement or whatever - like, 'OK, come on, let's move faster. Let's get there faster. Let's get it done.' This should have already been behind us. So I am excited about it, but I want it to continue and be more."
Nettles married her husband, entrepreneur Justin Miller, in 2011.
RELATED ON HUFFPOST:
PHOTO GALLERY
BEFORE YOU GO
Celebrities Who've Faced Gay Rumors
PHOTO GALLERY
Celebrities Who've Faced Gay Rumors