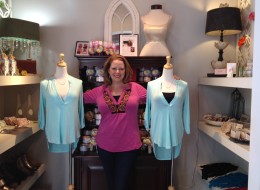 One of the reasons I started my website is that I wanted a place for women to come together and dream. We women need to know that we don't have to hang on to an old dream that has stopped nurturing us -- that there is always time to start a new dream. This week's story is about a savvy boutique owner who created a solution for a problem that both she and her customers were having -- which earned her a spot on Oprah, and over half a million dollars in revenue! -- Marlo, MarloThomas.com
By Lori Weiss
From the age of eight, Marla Ross was behind the counter of her family's clothing store, showing off the latest styles in fashion and jewelry. So it was no surprise that, decades later, she would go on to become the queen of San Antonio's fashion scene, and the proud owner of the boutique her grandmother opened in 1975.
But after having two children of her own, Marla discovered that things behind that counter weren't quite the same. Each time she leaned over to show a fabulous piece of jewelry, she realized that there was more than the store's inventory on display.
"I was wearing a halter dress one day," she explained, "and as I leaned over to help a customer, I could feel the 'girls' beginning to pop out. After having two babies, I thought, No one needs to look at these things anymore!"
The Texas business woman had been hearing the same sentiment from many of her customers. While they loved the styles of the season, the plunging necklines didn't seem appropriate for PTA meetings.
"Everything was cut down to their navel," Marla recalled, "and not everyone wants their 'girls' falling out. Women would say, 'I love this dress, but I'm not wearing it out.' They wanted something to cover the triangle of the cleavage, but they didn't want to wear another shirt underneath. It was 106 degrees in Texas and they were sweating buckets."
"I thought, There's got to be something out there. Someone must have figured this out. So the next time I was on a buying trip, I went to showrooms I hadn't shopped in before. But the only choices I could find were camisoles, camisoles, and more camisoles. I knew that wasn't the answer."
"Aside from the extra layer of fabric that women don't want to wear in the midst of a Texas summer, imagine getting out of your car and finding that your camisole has ridden up to your bra line. You have to stick your hand under your dress to put it back in place -- and that's not very attractive!"
So when Marla got back to San Antonio, she took out a hotel sewing kit and put what she refers to as her "kindergarten skills" to work -- determined to develop a solution. She bought dozens of stretchy camisoles and tore them apart -- and then began sewing pieces together until the concept she had in mind began to come to life.
"My first attempt was just an insert, something that snapped onto a bra strap. But I thought, What if you're wearing a scoop neck? It wouldn't work. Somehow I needed to create an accessory that would snap onto the straps of a woman's bra, and wrap around the back of it -- so it wouldn't show if you were wearing a halter top or racer back -- and end exactly where the bra does, so it wouldn't add any bulk. I needed to create something that would make the latest fashions more accessible to my customers."
Article Continues Below Slideshow
Marla Ross, a busy mother of two and boutique owner, wanted to solve the problem of showing too much cleavage when wearing low-cut dresses and tops. She created a solution that was quick, lightweight and easy-to-wear. Her design would earn her nearly half a million dollars.

Marla created Chickies Cleavage Coverage, a lightweight, easy-to-wear piece of wraparound fabric, which fits over women's bras to minimize cleavage in low-cut tops and dresses.

Working behind the counter at her boutique, Marla and her co-workers often had to bend down to show various items to customers, sometimes showing a little too much skin. In the heat of San Antonio, it was difficult to find work-appropriate clothing without showing too much cleavage to customers.

As she looked around her community, Marla realized that many women struggled with a similar fashion faux pas. Marla took out her sewing kit and developed a brilliant solution that would cover women up without making them sweat. Chickies Cleavage Coverage was born.

Marla comes from a family of store owners. Her grandmother, Mama Pat, started a clothing boutique in San Antonio called Adelante in 1975. Here, Marla (far right) sits with her Aunt Tricia and Mama Pat.

As a child, Marla worked behind the counter of her family's store. Here, she shows off the latest styles in fashion and jewelry at age eight.

Decades after her grandmother, Marla took proud ownership of the boutique, turning it into a major destination for savvy San Antonio shoppers.

Just like the generations before her, Marla's daughters Julia and Megan love to play at the boutique and help Mom out behind the counter. Here, fashionista Julia plays with some of the latest styles at age six.

As a businesswoman, Marla has always encouraged her daughters to get involved in the family store in fun ways. "They love to work the register and ring up a sale...just like their Mama!" Marla said.

Marla worked on developing Chickies while running her boutique. After creating a prototype and finding a manufacturer, she made calls to her local community and sent package samples like this to various lifestyle networks for years, eager to share Chickies with a national audience.

Marla's persistence paid off. After calling a local television program called San Antonio Living and telling them about her product, Marla was invited to debut Chickies on a fashion segment in 2008. She was only on the show for five minutes before her entire inventory sold out!

After her local television debut, Marla became determined to get her product in front of one of the biggest national women's lifestyle audiences: the Oprah Winfrey Show. She began shipping off samples to the show's producers, eager to get exposure.

It started to seem unlikely that Marla would be able to debut her product on Oprah, since she was told the show would only run for one more season. Undeterred, Marla adjusted her plan of attack. She began sending samples to editors at Oprah's sister publication, O Magazine, and continued exploring other outlets to debut Chickies. She contacted stylists and brought her product to celebrity gifting suites in Hollywood for exposure. Here, she and actress Danica McKellar pose at the Style Lounge in 2009.

Before she knew it, an editorial assistant from O Magazine emailed Marla to say they were interested. Shortly after, Marla was on her way to Chicago. "I promised myself that when I got Chickies on the Oprah show, I'd book a room at The Drake Hotel," Marla reflected. Here, Marla and a co-worker pose in front of her dream destination.

In January 2011, Oprah proclaimed Chickies Cleavage Coverage a "Must Have" fashion item for the coming year. That day alone, she sold 150,000 cleavage covers.

Here, Adam Glassman, Creative Director of O Magazine, and a model show off Chickies on the Oprah Winfrey Show.

Even in the midst of the Chickies success, the Ross family still finds time for fun. Here, the family celebrates Megan's 6th birthday at dinner.

Marla continues to show her product at various trade shows and expos. Here's a shot of the Chickies booth at the Curve Expo in New York City from August 2013.

Marla's persistence has served as a positive example for her daughters. "My mother always said that I don't have any 'quit' in me, and that's what I hope to pass along to my kids," said Marla.

"The most amazing part of all of this," Marla said, "was that my daughters got to see that dreams do come true." After years of hard work and determination, Marla has turned her dream into a reality and brought in nearly half a million dollars along the way. Here, Marla's family, including Marla's mom Jana and step-father Bill, ride horseback in Jackson Hole, Wyoming.
"Most of the men I spoke to didn't get it. Even my husband asked, 'Who would buy that?' The men weren't big fans of the idea. They like to see the 'girls'. But when I'd ask whether they had daughters, they'd say I need one in every color!"
So Marla moved forward, and since she'd spent most of her life in the fashion industry, she was fairly certain that the next step would be simple -- she'd just call a manufacturer, have them create a more polished version of her prototype, and she'd be in business. And without question, there were lots of people who took her calls.
"There were plenty of people who were interested," she said, "but no one wanted to sign a confidentiality agreement. That's when I realized I was on to something and I'd better do something to protect myself. But an attorney told me that patenting clothing is nearly impossible and there was only so much money I wanted to pay to the government to have them say no."
"What was important was the trademark. I needed to have the best possible product and be the first to bring it to market, so I could establish my brand. And then I just had to take a risk. I had to show it to someone if I wanted to get it manufactured. But I took my original prototypes and wrote all over them in Sharpies -- 'This is my property and my idea.'"
It would be that willingness to take a risk, that would eventually land Marla one of the most coveted spots on television -- and help her build a business that would bring in hundreds of thousands of dollars.
"I decided to show them to a manufacturer who had stretch fabrics I really liked. His construction was always fabulous and his prices were good. And while he refused to sign anything before he saw my idea -- once he did, he knew it wasn't a business he'd be interested in being in. He made dresses. So he agreed to sign the confidentiality agreement and I placed my first order. I thought at the very least, I'd be able to sell them in my store."
The manufacturer needed a few weeks to create samples, but Marla didn't waste any time before she began spreading the word. She called the producer of a San Antonio talk show and told them about the new product she'd created -- Chickies Cleavage Coverage. She was on the show for five minutes and sold out her entire inventory before it even came off the manufacturing line.
With that quick success under her belt, Marla decided it was time to bring her product to the rest of the country -- and who better to do it than the woman everyone was watching. Marla set her sights on becoming one of Oprah's favorite things.
"The very first media kit I sent out was to the Oprah show," Marla said with a smile. "I probably sent something every six to nine months. And I kept a photo up in my office, of a model getting out of a car in front of the Drake Hotel in Chicago. I promised myself, that when I got Chickies on the Oprah show, I'd book a room there. But when Oprah announced that she was only going to do one more season, the producers told me it didn't look good."
Not one to take no for an answer, Marla decided to try another way in. She shipped off samples to O Magazine. And her persistence paid off. An editorial assistant emailed the very next day -- to say they'd like to see more.
As the feisty entrepreneur waited for a final answer, she continued knocking on other doors. She contacted stylists who regularly featured new products on television. She brought her cleavage covers to Hollywood's celebrity gifting suites. And while she was in Los Angeles, she went back to what worked for her in the beginning -- she made an appearance on a local television show.
What she couldn't have known was that she was about to have a full circle moment. Someone was watching at home and thought Marla's bright idea would be perfect for her celebrity client.
"I got an email that said, 'I work with Oprah Winfrey and I think she needs to have some of these.' By that point, I had heard that Chickies was going to be featured in the September issue of O Magazine -- so I figured she'd seen them in the office. But when I spoke with her, she just laughed and said, 'No, I just saw a woman on KTLA and I knew I had to find them."
Chickies were on their way to Oprah, and it wasn't long before Marla was on her way to Chicago and The Drake Hotel. In January of 2011, Oprah proclaimed Chickies Cleavage Coverage a "Must Have" for the coming year.
"When Oprah came out before the show and said, 'I'm sure you all have different stories of how you got here,' I had tears streaming down my face. And to hear her say, 'You get a Chickie and you get a Chickie and you get a Chickie!' was completely overwhelming."
When the show began airing around the nation, Marla was overwhelmed again. Her website crashed not once, but twice -- as the orders came pouring in. That day alone, she sold 150,000 cleavage covers. And three years later, the modest entrepreneur has brought in nearly half a million dollars.
"The most amazing part of all of this," Marla reflected, "was that my daughters, who are eleven and eight now, got to see that dreams do come true. My mother always said that I don't have any 'quit' in me and that's what I hope to pass along to my kids."
"I can't tell you how many people I met along the way, who said 'I thought about that idea, I even cut up my old slips, but I never did anything with it.' That's the trick -- the doing it part. When an idea comes to you, you've got to find a way to do something with it."
Add Marlo On Facebook:
Follow Marlo on Twitter:

Weekly Newsletter

Sign up to receive my email newsletter each week - It will keep you up-to-date on upcoming articles, Mondays with Marlo guests, videos, and more!

Sign up here