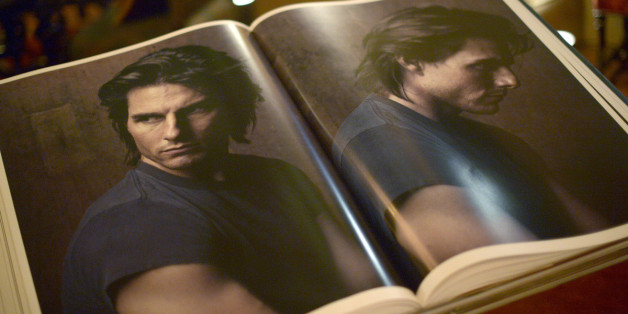 Annie Leibovitz is not just an American portrait photographer, she is royalty. Or, put in more accurate terms, she has photographed Hollywood royalty for decades, and is perhaps the most iconic, and infamous, of them all.
At a private cocktail party at the Chateau Marmont in Los Angeles on Wednesday night, Vanity Fair, Leon Max and Benedikt Taschen presented the new Annie Leibovitz coffee table book. The limited-edition, sumo-size Taschen book costs around $3,000 and includes over 40 years of Leibovitz's most esteemed photographs.
"The book took about four years," Leibovitz told The Huffington Post. "There was a moment when it stalled a little bit. And I changed my thinking on it. It's just so big. I've never done anything like it. You start to go through it and you can't remember what you had in the beginning," she said, leaning near a grand piano in the living room of the Chateau Marmont. "This is the first time I've done a book that isn't chronological. There are riffs. It's kind of like a roller coaster ride -- it goes up and down."
The 476-page book is 19-inches by 27-inches and weighs so much it seriously comes with its own stand (designed by Marc Newson). "It's not really meant to be flipped through. You're supposed to just fall upon pictures and leave them open. It's not a retrospective. It was hard," Leibovitz said. Shooting Vanity Fair's iconic Hollywood cover is one of Leibovitz's signatures. When asked what her favorite performances of the year were, Leibovitz said, "I loved Cate Blanchett, and I definitely think Sandra Bullock was amazing. But I was sorry that Robert Redford didn't get in there."
While she is known for her famous portraits, Leibovitz seems to have left her own indelible mark on Hollywood. "I had a great platinum blond wig on. My tits were completely out. This was 15 years ago," actress Melanie Griffith reminisced about being on set with the famous photographer. "I just adore Annie. She's wild and wonderful and natural and crazy and so good. She took another one of me wrapped up in celluloid. Naked. Sitting like a pin up-girl. Just only in celluloid with John Waters in the picture and Stephen Dorff in this crazy old director's outfit," she said. "I have that in the men's bathroom in our house. I was hiding it from my kids. Now they're all grown up. The other one is in a dark hallway. We don't like having photos of us all around the house. But those are special."
Griffith's favorite film of the year is "12 Years A Slave." "I loved the whole thing. I think Michael Fassbender is fucking unbelievable. And I loved Lupita [Nyong'o] and Chiwetel [Ejiofor]. All of them."
Others like Quincy Jones, David Hockney, Patricia Clarkson, Paul Haggis and photographer Terry Richardson joined the party. Sylvester Stallone (holding hands with his wife and daughter) seemed to have missed a memo. "I didn't know there was a book! I thought this was just a party. I just came here out of the ether. My god. I've got to get out more," he laughed.
Stallone's iconic "Thinker" photograph with Leibovitz is in the book -- and it leaves little to the imagination. "She's probably the only one I would do that for. She thought of it all," Stallone told HuffPost. "She found out that I liked sculpture -- I collect Rodin and Boteros, you name it. She said, 'Why don't you and your wife reenact Rodin's figures?' I went, 'Okay!' And now I see it and I cover my face and go, Oh, my god."
Turning to his wife, Jennifer Flavin, Stallone laughed, "She wants me to take them down. The kids' friends come over and it's like, 'There's my dad naked!' We have two in our bedroom so the kids don't have to see them."
His favorite performance of the year belongs to "Dallas Buyers Club." "I think Matthew McConaughey did an amazing job. He certainly earned it. And actually I think Christian Bale is unbelievable. It's really been a stellar year," Stallone said.

Over by a corner, Michael Richards peered over at the pages of Leibovitz's tome. "I just looked through the book with the publisher. That was a highlight. The photographs really come through when they're printed this large," Richards said. "I have worked with Annie only once. But in spirit, I feel like I have worked with her more than that. She's very creative," Richards said. "We went through a sort of search-and-destroy process together and then Annie had this one thought. And it became the thought. We went for it and that's the picture in the book."
The book is available in four different dust jackets: Whoopi Goldberg (1984), Keith Haring (1986), David Byrne (1986) and Patti Smith (1978) and is limited to a total of 10,000 signed and numbered copies.
PHOTO GALLERY
BEFORE YOU GO
Annie Leibovitz's Big Book
PHOTO GALLERY
Annie Leibovitz's Big Book