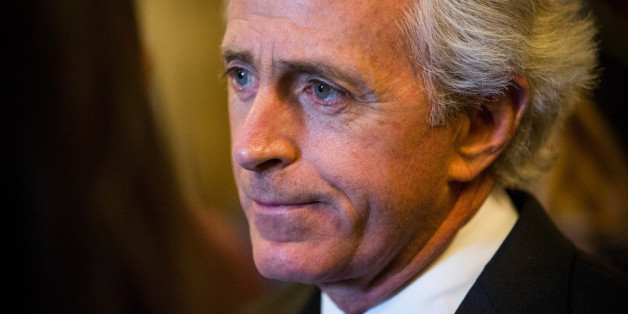 WASHINGTON -- Sen. Bob Corker (R-Tenn.) likened Senate Majority Leader Harry Reid's (D-Nev.) grip over the Senate to the leadership of Russian President Vladimir Putin.
Speaking to reporters at a Christian Science Monitor breakfast Thursday, Corker expressed frustration over Reid's use of the nuclear option and argued that the Senate was "on a death spiral."
"If you allow people to just run roughshod over you -- just like we're seeing right now with Putin in Russia right?" Corker said. "He's getting no push-back from the United States, so why not do the things that I'm doing? If you don't have any push-back, then obviously people will see a way to do even more of those things down the road."
Democrats, led by Reid, voted in November to change the Senate rules to pass most executive and judicial nominees by a simple majority vote. The move followed a record level of obstruction over President Barack Obama's nominees -- half of the nominees filibustered in U.S. history were blocked by Republicans under the Obama administration.
Corker said he spent much of last summer trying to work with the White House and Senate Democrats to advance a number of key issues, but Democrats' use of the nuclear option had marked a turning point for him.
"When that happened, I finally decided after seven years … and especially what's happening right now, I've come to the conclusion that the United States Senate will not ever function in an appropriate way with the leadership that we now have in place," Corker said, banging his hands on the table. "It's not going to."
"I think it's reprehensible -- reprehensible -- the way the United States Senate operates today," he added.
Corker's unusually charged response was to a question about the current Republican push to attach Iran sanctions to veterans benefits bill. The Tennessee Republican, who serves as the ranking member on the Foreign Relations Committee, said last month that he supports putting off an Iran sanctions vote until the summer.
Corker already conceded on Wednesday that his colleagues would not get a vote, but his tone toward Reid was noticeably sharper on Thursday as he criticized the majority leader for not allowing a debate on the Senate floor.
"Sen. Reid is unwilling for his majority members to be in a position of taking tough votes and that's what this is all about," Corker said. "We have something occurring, and yet the United States Senate is keeping us from debating that issue."
"Look, if the president doesn't like what the Senate, what the House of Representatives has to say on Iran, he can veto it," he added. "I don't understand, I don't."
Both Reid and the White House have argued that voting on additional sanctions sends a message to Iran that the U.S. is not negotiating in good faith and could thus unravel the first direct talks between the two governments in over 30 years.
Reid said he is willing to consider relevant amendments to the veterans bill and criticized Republicans for trying to politicize the issue of Iran.
"The idea of Iran obtaining a nuclear weapon is so unthinkable that Democrats and Republicans have always worked together on this policy," Reid said in a floor speech Wednesday. "Unfortunately, it seems Republicans are trying to erase that history and politicize an issue that has historically been above partisanship."
Reid also pointed out that veterans groups were opposed to the GOP's efforts to tie Iran sanctions to their benefits bill.
Dave Jamieson contributed reporting.
ALSO ON HUFFPOST:
PHOTO GALLERY
BEFORE YOU GO
Senate Majority Leaders Through The Years
PHOTO GALLERY
Senate Majority Leaders Through The Years