History Meets Present As Photos Bring Iconic Black Trailblazers Side By Side (PHOTOS)
Black history is not stagnant. It continues to progress every day, as the trailblazers of the past pave the way for newcomers who continue to carry the torch forward.
As Black History Month comes to an end, The Huffington Post has created images that combine icons of the past with living legends in their industries, bringing history side by side.
Jackie Robinson and Carsten Charles "CC" Sabathia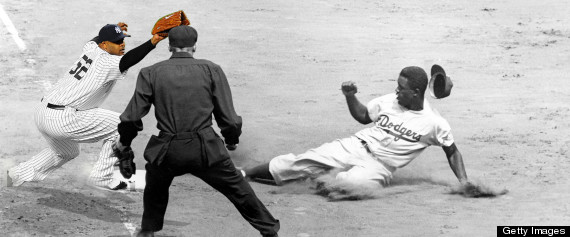 As the first African-American to play in Major League Baseball, Jackie Robinson broke down barriers for scores of minority men who followed in his footsteps. Over the course of 10 seasons, Robinson played in six World Series, he was named the league's Rookie of the Year in 1947 and National League Most Valuable Player in 1949, and ultimately went on to join the baseball Hall of Fame in 1962. Today, not far from Robinson and the Brooklyn Dodgers' former home stadium, Ebbetts Field, Carsten Charles "CC" Sabathia pitches for the New York Yankees. Sabathia is one of the highest-paid pitchers in the league, and is regarded as one of the most durable pitchers in major league baseball.
Credit: Robert Sabo/NY Daily News Archive via Getty Images, B Bennett/Getty Images
Michael Jordan and Derrick Rose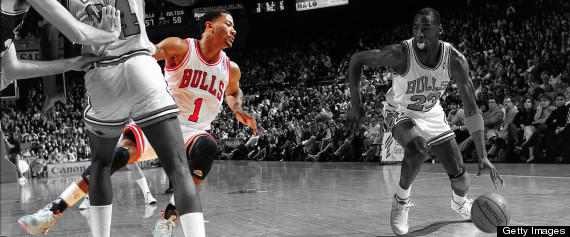 With an impressive list of accolades, Michael Jordan is recognized as the greatest basketball player of all time. The legendary athlete boasts five MVP Awards, 14 NBA All-Star Game appearances, and 10 scoring titles, to name a few. He is also a two-time inductee into the Basketball Hall of Fame. Today, many players are following in Jordan's footsteps, but one is showcasing his talent on the same home court as a member of the Chicago Bulls team. After graduating high school, Chicago native Derrick Rose was rated the top point guard in the country by scouts. During the 2008-2009 season, his first year of professional basketball, he went on to be voted Rookie of the Year. In 2011, he became the youngest player to ever win the NBA MVP award, and joined Jordan as the only Chicago Bulls player to ever win the honor.
Credit: Copyright 2013 NBAE
Iman and Joan Smalls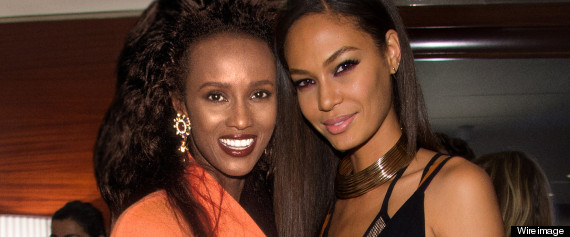 With a career spanning almost 40 years, Iman is hailed as a trailblazer in the fashion industry as both a model and entrepreneur. She has graced both runways all over the world and the covers of legendary magazines, such as Vogue and Harper's Bazaar. Fashion designer Yves Saint Laurent also dedicated his "African Queen" collection to her. With blaring accusations of racism on the runway, the fashion industry has made an effort to increase diversity. Iman has paved the way for models of color like Joan Smalls, who is one of the highest-paid beauties in the industry, and was the first Latina face in the history of Estee Lauder cosmetics.
Credit: Ron Galella/WireImage, Venturelli/WireImage
Richard Pryor and Kevin Hart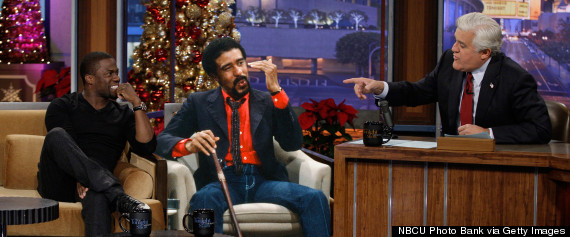 Richard Pryor is regarded as a trailblazer in comedy, tackling issues of racism and contemporary issues in a way no comedian before him had ever done. Pryor has been hailed by his colleagues as one of the most influential stand-up comedians of all time. Jerry Seinfeld called him "the Picasso of our profession" , and Bill Cosby praised him saying he "drew the line between comedy and tragedy as thin as one could possibly paint it." Today, comedian Kevin Hart has breathed new life into the industry and has quickly become a force to be reckoned with. Hart has quickly taken the movie, television, and comedy worlds by storm. With his successful show, "Real Husbands of Hollywood," and two hit films currently in theaters, Hart has proved he is indeed a powerhouse in the industry.
Credit: NBCU Photo Bank via Getty Images