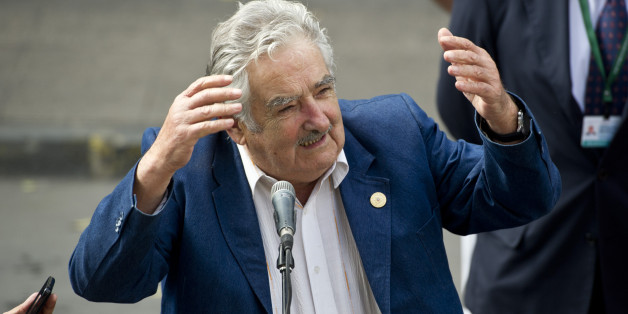 While Uruguay's president grabbed international headlines for legalizing the government-controlled production and sale of weed to registered users, Mujica also presided over the legalization of abortion and gay marriage over the last two years.
"We applied a very simple principle: recognize the facts," Mujica said, according to O Globo. "Gay marriage, please -- it's older than the world. We had Julius Caesar, Alexander the Great, please. To say it's modern, come on, it's older than we are. It's an objective reality that it exists. For us, not legalizing it would be to torture people needlessly."
Uruguay became the third country in the Western hemisphere, after Canada and Argentina, to legalize gay marriage last year. The reform, backed by Mujica's leftwing Broad Front, created one set of rules for all couples, replacing the words "husband and wife" with terms "contracting parties" for legal purposes, according to the Associated Press.
All couples may adopt children under the Uruguayan law.
His supporters have nominated him for a Nobel Peace Prize, citing Uruguay's unprecedented legalization of the marijuana trade, a move Mujica says was aimed at wresting power away from drug cartels.
27 Reasons Why U.S. Shouldn't Lead War On Drugs
SUBSCRIBE AND FOLLOW
Get top stories and blog posts emailed to me each day. Newsletters may offer personalized content or advertisements.
Learn more