Spring Pasta Recipes You Need To Try This Season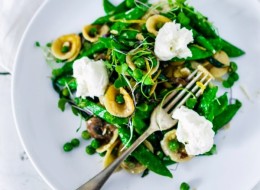 We love pasta all year round. Nothing is more comforting on a cold winter night than a big bowl of spaghetti and meatballs. We'll eat butternut squash ravioli any fall evening and fresh pesto any summer day. Spring pasta dishes are some of the best because of the bounty of awesome vegetables the season brings. From peas and asparagus to artichokes and arugula, spring vegetables add a range of robust flavors and textures to your noodles. We've found creative uses for all of them.
Here are 20 pasta recipes you need to try this spring.
Whole-Wheat Linguine With Spinach And Mushrooms

Taste

Spring Green Pasta with Saffron Cream Sauce

Aida Mollenkamp

Broken Lasagna With Garlic And Baby Spinach

New Media Publishing

Penne With Asparagus, Sage And Peas

Tina Rupp/Food & Wine

Broiled Chicken Thighs With Spinach Pasta

Taste

Orecchiette With Pancetta, Peas And Fresh Herbs

Quentin Bacon/Food & Wine

Farfalle With Spring Vegetables

Stephanie Foley/Food & Wine

Rigatoni With Artichokes, Garlic And Orange Zest

Kate Whitaker

Linguine With Broccoli Rabe-Walnut Pesto

Quentin Bacon/Food & Wine

Pan-Fried Artichokes, Fennel And Chorizo Tagliatelle

Taste

Asparagus Linguine With Almond Butter Crisp

Dan Goldberg

Creamy Pea And Rocket Linguini

Taste

Fusilli With Italian Sausage, Parmesan And Wilted Romaine

New Media Publishing

Sweet Pea Pesto

New Media Publishing

Tagliatelle With Wild Mushrooms, Garlic And Thyme

Frances Janisch

Ramp Carbonara

meganvt01 from Food52

Lemon Ricotta Spaghetti with Arugula

melissav from Food52

Asparagus Pesto with Pasta

SImply Recipes

Shrimp and Artichoke Pasta

Simply Recipes

Spring Orecchiette Pasta with Burrata

Feasting At Home
Want to read more from HuffPost Taste? Follow us on Twitter, Facebook, Pinterest and Tumblr.