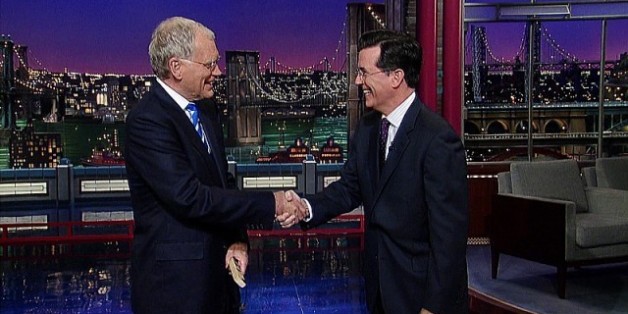 CBS
CBS announced around noon on Thursday, April 10, that Stephen Colbert will replace David Letterman on "The Late Show" when the latter retires in 2015, and shortly after that announcement, Twitter exploded.
The myriad of trending Twitter topics weighing in on the news included #Letterman, #StephenColbert, #TheLateShow and even Steven Colbert, which we're guessing was started by those cute Internet cats who can't spell and always has cheezburgers.
When it comes to the news, some of you loved it ...
@StephenAtHome is taking over the Late Show! I'm totally loving this!! I love #StephenColbert #LateShow

— Beth (@beth0301) April 10, 2014
And some of you hated it.
Colbert replacing Letterman? Colbert sucks. Which falls in line with CBS wanting to suck.

— Jai Roberts (@jairoberts) April 10, 2014
#StephenColbert #CBS What the hell were executives thinking. I DO NOT find any humor in this man. BAD decision. Ratings will tank!
STEVEN COLBERT?!?!?!?
no thanks.

— Abron Watford (@outlaw1) April 10, 2014
Some of you were confused.
Steven Colbert is taking over the Tonight Show. Today got 37813781746283 times better.
It's actually "The Late Show," but we appreciate the enthusiasm!
Even celebrities weighed in.
Congratulations to Stephen Colbert.

— Matt Lauer (@MLauer) April 10, 2014
Congrats @StephenAtHome for replacing Dave! Now can I do your prostate exam? (Hopefully if u r reading this u saw that show!)

— Katie Couric (@katiecouric) April 10, 2014
... Including Colbert's late night TV compatriots.
I'd like to welcome the great @StephenAtHome to network late night and also congratulate him on his new name: Jimmy Colbert.

— jimmy fallon (@jimmyfallon) April 10, 2014
Congratulations to the hugely talented and fragrant and lovely @StephenAtHome on the new gig. Welcome to the CBS funhouse.
What do you think about Colbert replacing Letterman? Leave your comments below!
FOLLOW HUFFPOST