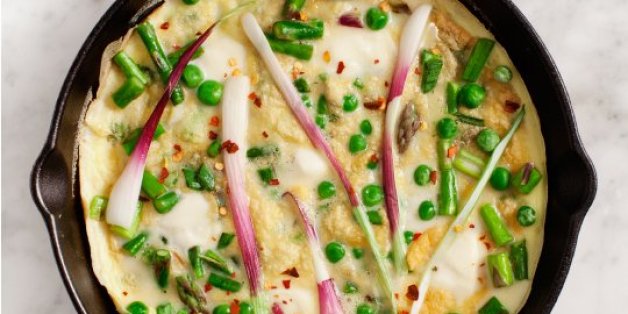 Love and Lemons
Every year, new glorious food blogs are born. Every year, countless unfortunate ones come into being too. Food blogging has become so common that if you aren't a food blogger yourself, chances are you know someone who blogs about food.
Food bloggers may not be "editors at Vogue," and not all of them are "experts," as Martha Stewart once reminded us before admitting the hypocritical error of her ways (she features a whole network of bloggers on her site). No, food bloggers occupy a different space and serve a different purpose. They are responsive, interacting with their readers in a way many publications cannot. Some might be pretentious or twee, but others are charming and light-hearted. Above all else food bloggers are approachable. They make us feel like we can try the tricky recipes too, and if we fail, it's okay. As food writer Adam Roberts of the Amateur Gourmet sums it up, food blogs "run on intimacy."
Every year Saveur magazine, one of the most respected publications in the food world, ranks the year's best food blogs. Readers and past winners nominate blogs, and Saveur editors decide the finalists. There are two winners for each category: a Reader's Choice award, composed of votes from online ballots, and an Editor's Choice award. Here are this year's winners:
Best Cooking Blog
Readers' Choice: Love and Lemons
Editors' Choice: i am a food blog
Finalists: Princess Tofu, Seven Spoons, The Year in Food, What's Cooking Good Looking
Best Baking and Desserts Blog
Readers' Choice: The Vanilla Bean Blog
Editors' Choice: Top with Cinnamon
Finalists: Breadtopia, My Name is Yeh, The Pastry Department, The Broken Bread
Best Cocktail Blog
Readers' Choice: Bit by a Fox
Editors' Choice: Death to Sour Mix
Finalists: Gastronomista, Loving Cup, Stir and Strain, The Straight Up
Best Wine or Beer Blog
Readers' Choice: The Thirsty Wench
Editors' Choice: Brunellos Have More Fun
Finalists: Brew Train, Guys Drinking Beer, Sob Stories, Hawk Wakawaka Wine Reviews
Best Regional Cuisine Blog
Readers' Choice: Rose Water & Orange Blossoms
Editors' Choice: Indian Simmer
Finalists: Acadiana Table, Bottom of the Pot, Aunt Clara's Kitchen, Jun-blog
Best Culinary Travel Blog
Readers' Choice: FEAST: An Edible Road Trip
Editors' Choice: Eating Asia
Finalists: Fed Man Walking, Luxeat, Parla Food, Will Travel for Food

Best Family Cooking Blog
Readers' Choice: Dinner: A Love Story
Editors' Choice: In Praise of Leftovers
Finalists: Chinese Grandma, Dash and Bella, Pure Ella, Some the Wiser
Best Photography
Readers' Choice: Local Milk
Editors' Choice: Local Milk
Finalists: Fat & Furious Burger, Herriott Grace, Hortus Cuisine, Lady and Pups, Nicky & Max
Best Writing
Readers' Choice: 5 Second Rule
Editors' Choice: Pen and Palate
Finalists: The Yellow House, Culinary Bro-Down, Food for the Thoughtless, Plated Stories
Best Original Recipes
Readers' Choice: My Darling Lemon Thyme
Editors' Choice: Oh, Ladycakes
Finalists: Dolly and Oatmeal, Flourishing Foodie, The Beeroness, Three Little Halves
Best New Blog
Readers' Choice: Broad Appetite
Editors' Choice: Hortus Cuisine
Finalists: Bottom of the Pot, My Blue and White Kitchen, Two Red Bowls
Best Use of Video
Readers' Choice: Poires au Chocolat
Editors' Choice: The Perennial Plate
Finalists: Food Curated, Glass Backwards, Life and Thyme, Muy Bueno Cookbook

Best Special Diets Blog
Readers' Choice: My New Roots
Editors' Choice: The First Mess
Finalists: Golubka Kitchen, Happyolks, Sassy Kitchen, Vegetarian Ventures
Want to read more from HuffPost Taste? Follow us on Twitter, Facebook, Pinterest and Tumblr.
Also on HuffPost:
The Best, Most Useful Cookbooks Ever
YOU MAY LIKE
CONVERSATIONS
FOLLOW HUFFPOST