Gorgeous Spring Soup Recipes To Try This Season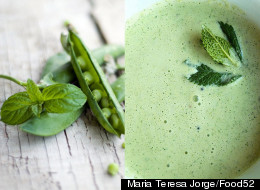 As we have probably told you before, soup is one of our favorite genres of food. We love to make soup recipes all year long, whether it's freezing cold or blistering hot outside. Spring soups are some of our favorites, because we get to highlight some of our favorite produce within them. One thing we didn't realize before pulling these recipes together is just how green most of the springtime foods we love to eat are.
The best spring soup recipes bridge the gap between the seasons. Some of these soups can be served either hot or cold, some are filled to the brim with chunky vegetables and some are puréed glassy smooth. Whether vegetable or meat-based, we've said goodbye to the stick-to-your-ribs, hearty root vegetable purées of winter, and are saying hello to lighter, (mildly) healthier spring dishes. What's your favorite soup to make in the springtime?
Want to read more from HuffPost Taste? Follow us on Twitter, Facebook, Pinterest and Tumblr.
Cold Asparagus Yogurt Soup

Rivka/Food52

Buttermilk Fennel Vichyssoise

James Ransom/Food52

Pea And Mint Cream

Maria Teresa Jorge/Food52

Easy Springtime Crockpot Minestrone

How Sweet It Is

Baby Spinach Soup Topped With Chunky Green Olives And Oregano

HuffPost Taste

Justin Burdett's Chilled English Pea Soup with Garlic Cream & Pickled Ramps

Genius Recipes from Food52

Bouillabaisse

Steamy Kitchen

Thyme-Scented Fennel and Leek Soup

AntoniaJames from Food52

Artichoke Soup

Simply Recipes

Watercress Soup

Lola Lobato/Food52

Carnitas Caldo

Gimme Some Oven

Garlicky Creamed Cauliflower Soup With Burnt Mustard Seed And Chili Butter

HuffPost Taste

Asparagus Soup With Parmesan Shortbread Coins

David Malosh

Cod In Garlic-Ginger Broth

Steamy Kitchen

Old-Fashioned French Onion Soup With Comté Tartines

Manger

The Modern Pea And Ham Soup

HuffPost Taste

Colombian Chicken Soup

Pip & Ebby

Roasted Vegetable And Pesto Minestrone

Bev Cooks

Egg Drop Soup With Ginger, Chiles And Spring Peas

CarolineWright/Food52

Turkish Yogurt Soup With Lamb Meatballs

fiveandspice/Food52

Light And Fluffy Matzo Balls In Chicken Soup

Flat Art Studios

Spring Vegetable Soup

Bev Cooks

Creamy White Asparagus Soup

Joseph Erdos

Silken Tofu And Edamame Soup (Edamame No Surinagashi)

Maren Caruso

Parsnip Soup with Leeks and Parsley

Simply Recipes

Spring Pea and Farro Soup

thirschfeld from Food52

Creamy Asparagus Leek Soup with Creme Fraiche

Skinny Taste
Want to read more from HuffPost Taste? Follow us on Twitter, Facebook, Pinterest and Tumblr.