Worst First Date Ever Steals Woman's Dog, TV: Cops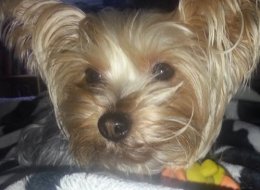 DOVER, N.J. (AP) — No stolen hearts on this first date. Instead, a New Jersey woman says a man she met on a dating website stole her dog and her flat-screen TV.
UPDATE FROM HUFFPOST - The stolen dog has been safely returned home, according to The Daily Record. Police are still searching for the suspect.
FROM THE AP:
Dover police tell the Daily Record of Parsippany (http://dailyre.co/1f8Kwz4) that the pair went out for the first time Thursday night.
After returning home, the woman said she became occupied in another room, leaving the man alone. When she returned, he was gone — and so were her Yorkshire Terrier named Violet and her TV valued at $3,000. The woman says her dog was worth $4,000.
The woman says she knew her date only as Joel and believes he lives in Elizabeth.
Sgt. Richard Gonzalez says police are searching for the man and dog and are checking other locations the short-lived couple visited.
___
Information from: Daily Record (Parsippany, N.J.), http://www.dailyrecord.com
CORRECTION: A previous headline, written by Huffington Post, incorrectly stated that the suspect stole the woman's car. He is accused of stealing her TV. Additionally, an update incorrectly stated that police were still searching for the suspect and dog. This should have only stated "suspect."