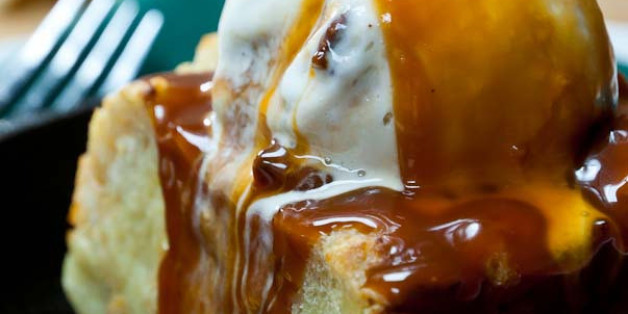 The one item we don't mind going bad in our kitchens is bread. With stale bread you have a great excuse to make French toast, or even better, a custard-y bread pudding. There are two camps of bread pudding: sweet and savory. The savory kind is every bit as awesome as the sweet kind, but we're focusing on dessert today. (And by dessert we also mean breakfast, because bread pudding can make a mean first meal of the day if you're looking to indulge.)
A good sweet bread pudding is made with cubes of stale bread that have been soaked in a custard sauce and baked until soft in the center and golden on top. You can slice it and serve it as is, or top it with anything from hot rum sauce to maple syrup. A big scoop of ice cream or a dollop of fresh whipped cream never hurt anyone either. You pretty much can't go wrong with bread pudding.
And don't worry: if bread doesn't seem to ever go stale in your house -- in other words, if it gets eaten too quickly -- you can still make and enjoy bread pudding with fresh bread. Here are 28 bread pudding recipes we're loving right now:
SUBSCRIBE AND FOLLOW
Get top stories and blog posts emailed to me each day. Newsletters may offer personalized content or advertisements.
Learn more