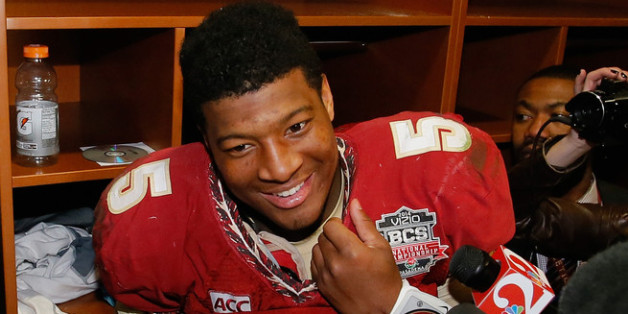 The latest controversy involving Florida State quarterback Jameis Winston is #CrabGate.
The reigning Heisman Trophy winner was first linked to the sea creature when SB Nation's Florida State blog Tomahawk Nation reported on Wednesday morning that he had been busted for stealing crab legs from a Publix supermarket. The Leon County Sheriff's Office later held a press conference to discuss the matter and announced that Winston had received a citation after allegedly failing to pay for $32 worth of seafood, reported The Associated Press.
Even when details of the incident remained unclear, Twitter wasted no time reacting to the developing story by mocking Winston and creating as many crab puns and memes as possible:
lobs pic.twitter.com/uzzoR7kTpB
— Tim Duval (@MadeByTim) April 30, 2014
STOP IT RT @BrandonRayLong: @lebrownlow "@TheFoxTheatre: New casting announced for The Little Mermaid. #crablegs pic.twitter.com/LaQcVuq7bk""
— Lauren Brownlow (@lebrownlow) April 30, 2014
Jameis is going to walk on these charges. Sideways, but he'll walk.
— Cecil Hurt (@CecilHurt) April 30, 2014
#FSU Jameis Winston, Deadliest Catch edition cc:@Nole_Man #FamousJameis pic.twitter.com/opJolWIGdp
— GATA Dawgs (@BassinDawg) April 30, 2014
Really wonder about Jameis Winston's decision making. This entire episode was high-bisque, low reward.
— Brian Hamilton (@BrianHamiltonSI) April 30, 2014
Artist's rendering of Jameis Winston incident. #ncaa pic.twitter.com/FB0xc1z6Yx
— nascarcasm (@nascarcasm) April 30, 2014
Don't worry. I know what it takes to crack the Winston case wide open. pic.twitter.com/0a1IsoWs4Y
— BurritoBrosShits (@BurritoBrosShit) April 30, 2014
Breaking: Florida state's attorney says Jameis Winston crab case is weak, there's not eight legs to stand on.
— Chris Dufresne (@DufresneLATimes) April 30, 2014
This Publix thing could even follow Winston to another school if the NCAA calls for a "show claws" penalty.
— Greg Auman (@gregauman) April 30, 2014
— Spilly (@IAmSpilly) April 30, 2014
No, Jameis. pic.twitter.com/5a4JglMAGi
— Chris Burke (@ChrisBurke_SI) April 30, 2014
@JaysonSwain pic.twitter.com/22oo2GLW2g
— Travis Payne (@T_Payne) April 30, 2014
yeah but tebow woulda fed an entire multitude with just one package of crab legs
— sir broosk (@celebrityhottub) April 30, 2014
I love twitter right now. #CrabGate pic.twitter.com/i1Vmx78kLa
— rebekah (@clemsonrebekah) April 30, 2014
#CrabGate pic.twitter.com/3mDDpL2U9j
— Cole Poland (@colemooredaily) April 30, 2014
WHY NOT ZOIDBERG #CrabGate pic.twitter.com/vSAW2uhXho
— Evil Cam Newton (@evil_cam_newton) April 30, 2014
everybody else stop. @JesseMyP won. its over. pic.twitter.com/7kUXp9s9tz
— Perry Kostidakis (@perrykos) April 30, 2014