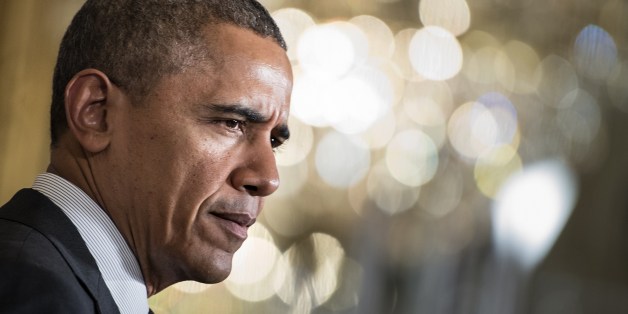 WASHINGTON, April 30 (Reuters) - President Barack Obama and his Republican opponents traded accusations over the minimum wage and a deadly attack at a U.S. facility in Benghazi, Libya, on Wednesday in their drive to get voters focused on the November congressional elections.
With five months before voters go to the polls, little actual governing is getting done and much of Washington is all about political posturing ahead of elections that may well determine Obama's ability to govern in his last two years in office.
Obama, whose tepid public approval rating threatens to sag Democratic attempts to maintain control of the Senate in November, appeared with low-wage workers in the White House East Room to press his case for reducing income inequality.
He zeroed in on what Democrats consider a major issue for them heading into the campaign season - raising the minimum wage paid to millions of Americans.
A Senate vote on the minimum wage fell short of the 60 votes needed for passing the first increase in the threshold since 2009.
Most Republicans voted against it, giving Obama an easy target to press the Democratic mantra that Republicans are trying to hold back the middle class.
"Change is happening, whether Republicans in Congress like it or not," Obama said. "And so my message to the American people is this: Do not get discouraged by a vote like the one we saw this morning. Get fired up. Get organized. Make your voices heard."
Republicans returned to a topic that the White House considered a settled issue - the controversy surrounding the killing of the U.S. ambassador to Libya, Christopher Stevens, in a militant attack on an American facility in Benghazi, Libya.
Obama's critics pounced on emails from U.S. officials released by the conservative watchdog group Judicial Watch on Tuesday. The group said the emails showed the White House was concerned primarily with protecting Obama's image after the Benghazi violence.
The attack by militants on September 11, 2012, killed four Americans at the U.S. mission in Benghazi, including Stevens. The issue is politically salient because Hillary Clinton was secretary of state at the time and Republicans will likely try to use Benghazi against her should she run for president in 2016.
In the emails, obtained by Judicial Watchdog via the Freedom of Information Act, Ben Rhodes, Obama's deputy national security adviser for strategic communications, discussed what should be stressed when top U.S. official Susan Rice appeared on Sunday television news shows days after the Benghazi attack.
The Rhodes email lists one goal for Rice as being "to underscore that these protests are rooted in an Internet video, and not a broader failure of policy."
Republican Senator Lindsey Graham of South Carolina said the Rhodes email "shows that Benghazi in the eyes of the White House was a political problem" for Obama ahead of the 2012 presidential election, which he won.
"I think he understood very quickly this was a chink in the president's political armor in terms of his narrative about his foreign policy successes. And the document that is now released as the result of a lawsuit, nothing else, clearly shows that Ben Rhodes was trying to be a political operative, rather than a national security spokesman," Graham said.
Republican Senator John McCain also leaped into the fray.
"This is ample evidence of the politicization of this whole tragedy of the loss of four brave Americans," he said.
At the White House, spokesman Jay Carney was peppered with questions about Benghazi. He said the email was not specifically about Benghazi, that the CIA had produced "talking points" about the Libya attack.
"The email and the talking points were not about Benghazi," Carney said. "They were about the general situation in the Muslim world." (Additional reporting by Patricia Zengerle, Jeff Mason and Roberta Rampton)
Also on HuffPost:
Hillary Clinton's Benghazi Hearing
SUBSCRIBE AND FOLLOW
Get top stories and blog posts emailed to me each day. Newsletters may offer personalized content or advertisements.
Learn more