WASHINGTON -- As support for equality for lesbian, gay, bisexual and transgender individuals grows in the GOP, the official stance of the Republican Party remains rooted in opposition to those rights. The party's national platform, written in 2012, comes out strongly against LGBT equality and even calls for an amendment to the U.S. Constitution to ban same-sex marriage.
For the most part, the same remains true at the state level. According to a count by The Huffington Post, only seven states plus the District of Columbia have no mention of opposition to same-sex marriage or other rights for LGBT individuals in their party platforms. Fourteen states appear to go by the national platform, leaving 29 other states with their own platforms that oppose gay rights.
Oklahoma's platform, for example, opposes "the elimination of laws against sodomy" and asserts that being gay is a "chosen lifestyle," not a "genetic trait" -- a claim that is disputed by top medical organizations. Texas' platform states that "the practice of homosexuality tears at the fabric of society and contributes to the breakdown of the family unit."
But in many states, there is a significant internal push-and-pull going on as parties get ready to write new platforms, just as the national GOP will do in 2016. With the Republican Party now divided on support for same-sex marriage, it often comes down to which faction is the most organized and gains control of the platform-writing process.
The Illinois GOP platform, adopted in 2012, still supports a constitutional amendment defining marriage as being between one man and one woman, but that position appears to be losing favor. In 2013, then-Illinois GOP Chair Pat Brady resigned after receiving criticism from some party officials for speaking out in support of LGBT equality, in direct contradiction to the language in the platform. But this year, those same Republican officials who wanted to oust Brady have been replaced.
Massachusetts, on the other hand, took a step the other way. Although the state was the first to legalize marriage equality in 2004, this February Republicans wrote opposition to same-sex marriage into their platform.
Tyler Deaton has made it his mission to get anti-gay language out of the national Republican platform in 2016. He's the campaign manager for the Young Conservatives for the Freedom to Marry, an offshoot of the pro-LGBT group Freedom to Marry that is spending $1 million to "reform the platform." Deaton blamed Massachusetts' "regression" on a lack of organization in the state.
"The Republican Party in Massachusetts is a pro-freedom-to-marry party, except for a small group of activists who managed to organize themselves and influence the outcome of the convention," he said. "It's symptomatic of a lack of organization by all of the pro-freedom-to-marry Republicans who are the majority in Massachusetts and know that the Republican Party in Massachusetts has to move forward on this issue to be viable."
Freedom to Marry undertook a similar effort in 2012, when it successfully pushed the national Democratic Party to enshrine support for marriage equality in its platform.
Marc Solomon, Freedom to Marry's national campaign director, doesn't expect the GOP to go that far in 2016, but he would like to see the anti-gay language gone.
"We're not doing what we did with the Democratic platform," he said. "In that, we called for freedom-to-marry language, because that's where the party was. And it was still a heavy lift and a push because the president wasn't there yet. In this platform, what we're saying is, 'Look, we recognize there is a mix of opinions on this issue and that people's opinions are changing quickly on it.'"
A focus of Deaton's mobilization effort will be young Republicans, who are more supportive of LGBT rights than their older counterparts.
"I think mechanically the biggest part of what we're doing is educating supporters about an opportunity that already exists to become more involved in the party, to try to become a delegate to the national convention in 2016, and to really stand up and be counted, to have their voice be heard and to be a participant in the process," he said.
"I think a lot of activists have struggled to find the right way to channel their beliefs," he added. "And that makes sense, right? Because especially if you live in one of the 17 states or you live in D.C., and you're a Republican and so those are the states that have the freedom to marry, I think you ask yourself, 'What can you do to be contributing to this bigger national fight for freedom for same-sex couples?'"
Already, some young Republicans have been taking a stand. The Washington state College Republicans recently passed a resolution at their convention calling on officials to change the national platform to remove anti-gay language. It also pressed House Republicans to bring the Employment Non-Discrimination Act up for a vote. The legislation, which would bar workplace discrimination against LGBT individuals, passed the Senate, but House Speaker John Boehner (R-Ohio) has indicated no interest in bringing it up for a vote.
The marriage plank in the current Republican platform was crafted by Tony Perkins, head of the socially conservative Family Research Council, who did not return a request for comment for this article. The Republican platform states that the "redefinition of marriage" is "an assault on the foundations of our society."
"Republican voters are in a much different place from where the platform is," said Solomon. "The language in the platform is truly vicious and anti-gay. Tony Perkins from the Family Research Council claims to have written the language in the platform, and they're classified as a hate group by the Southern Poverty Law Center. [...] I think that if Republican voters and even increasingly active Republican elected [officials] and others realize that this section of the platform is being written by really extreme, anti-gay forces, I think that they would be ... pretty appalled."
Several state GOP platforms -- in places like Colorado, Maine and New Hampshire, among others -- simply state that they believe marriage is between one man and one woman. But other platforms, like the national one, go much further.
Wyoming's platform calls for the reinstatement of the ban on gays serving openly in the military, which was repealed in 2010, two years before the most recent version of the state's platform. It argues that "a vigorous pro-homosexual agenda in the military is apt to incite violence and therefore weaken the military."
South Carolina's platform "considers homosexuality a lifestyle detrimental to the health and well-being of individuals." It also expresses concern about the spread of HIV/AIDS, seemingly because it "is no longer confined to the homosexual community and the 'drug-abuse sub-culture.'"
The new Rhode Island GOP platform, which was adopted this month, is not yet online, according to the party's executive director, Robert Paquin, III, but on the issue of marriage equality he said: "There is no specific verbiage in our platform regarding the issue, as it is currently a law on the books and we are not seeking to overturn it."
There are a handful of Republicans running for Congress this cycle who do back marriage equality, although for the most part, they have been slower than the base to evolve. But activists pushing for change argue that this year's GOP candidates are not running against same-sex marriage like they did in the past, and that -- like staying neutral on the issue in a party platform -- is progress.
Even the Republican National Committee has admitted that the party needs to be less anti-gay if it wants to stay viable. After the 2012 elections, the RNC put out a report looking at the opportunities and vulnerabilities of the current GOP, concluding that when it comes to LGBT issues, "if our Party is not welcoming and inclusive, young people and increasingly other voters will continue to tune us out."
"There are a lot of young Republicans who just love the Republican Party, and they are die-hard conservatives. And they want to be excited about being Republicans, passionate about it," said Deaton. "But then you have this anti-gay language in there that can be demoralizing. It can undercut your enthusiasm. That's partially how I view it as a gay Republican. I just can't stand that there's language in there that's so demeaning."
"I think we'll have a new platform in 2016," he added. "I think we'll have the anti-gay language removed, and I don't know exactly what the new platform will say, but I think it will be unifying and it won't be anti-gay."
Map created by Aaron Bycoffe.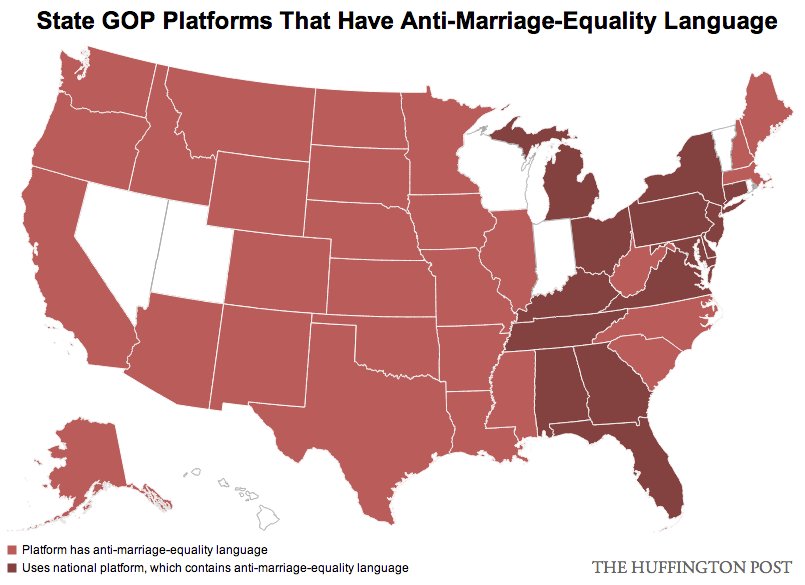 States with individual platforms that have anti-gay language:
Don't Ask, Don't Tell Whereas the presence of on-duty, heterosexual or homosexual romance in the military greatly weakens the effectiveness of the military; and Whereas a vigorous pro-homosexual agenda in the military is apt to incite violence and therefore weaken the military; and Whereas social engineering and social experimentation have no proper place in the military environment; and Whereas in combat and other military situations transfusions and banking of untainted blood an urgent necessity; and Whereas a return to the "Don't Ask, Don't Tell" policy would mitigate the perpetuation of homosexuals in the military, Be It Resolved that the Republican Party demands the reinstatement of the "Don't Ask, Don't Tell" Policy of the U.S. Armed Forces.
Also on HuffPost:
Gay Marriage In The United States
FOLLOW HUFFPOST