Ricky Gervais and Russell Crowe went out together in Newcastle, England, Sunday night, May 11, and we know this because they live-tweeted it. Their documentation includes one iteration of the C-word and at least three photos in which they look really drunk like people who should one day play "brothers in a weird movie." Please roll around in the evidence of their unlikely friendship:
Who am I getting drunk with at the moment? pic.twitter.com/IRabFkUvDe
— Ricky Gervais (@rickygervais) May 11, 2014
@rickygervais Roger Moore?
— Russell Crowe (@russellcrowe) May 11, 2014
.@JaneFallon & I feel a bit hungover this morning. And it's all Noah's fault :) pic.twitter.com/3fMOxRBP1O
— Ricky Gervais (@rickygervais) May 12, 2014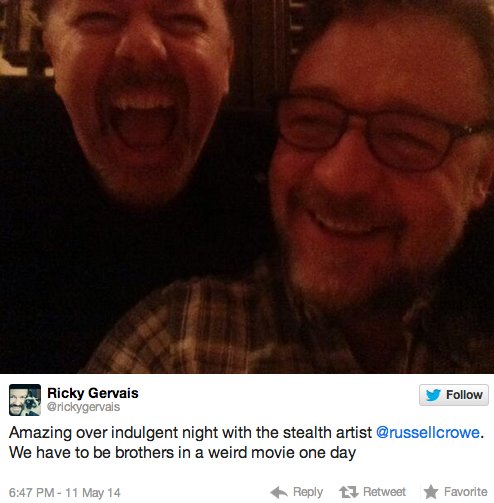 @rickygervais see...that photo right there...the difference between TV and Cinema
— Russell Crowe (@russellcrowe) May 11, 2014