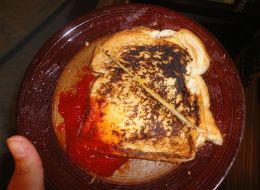 The grilled cheese sandwich is probably the easiest thing one could make. There are no complicated cooking instructions and no difficult ingredients to source. Just bread, butter and cheese. Grilled. In a skillet. ANYONE can do it. And yet, somehow, this sandwich is repeatedly failed by more than capable human beings. Where's the love, people?
We've gone over all the simple steps you can take to make sure your grilled cheese is 100 percent awesome but we're still finding sad, sad excuses for grilled cheese sandwiches. Some of these grilled cheeses are left to burn in the pan -- it takes minutes to cook, do you really have to leave the kitchen? Other grilled cheeses fall apart into a gloopy mess -- so sad.
And it gets worse. So much worse.
Someone MICROWAVED this grilled cheese.

Imgur: HorsHead4tuna

This grilled cheese never even stood a chance.

Imgur: Show3it

This grilled cheese had so much potential.

Imgur: BeirutJH

And this grilled cheese was made in a coffee pot.

Imgur: CoffeeTeaMe

The person responsible for this clearly has no love for food -- or life in general.

Imgur: ibrokethedishes

Dorm room grilled cheese gets an F for FAIL.

Imgur:

WHY????

Imgur: chiefsalad

Rice cakes.

Imgur: DaHitcha

Two AM grilled cheese.

Imgur: Giygas

We're not even sure what went wrong here.

Imgur: joshthewaster
Want to read more from HuffPost Taste? Follow us on Twitter, Facebook, Pinterest and Tumblr.