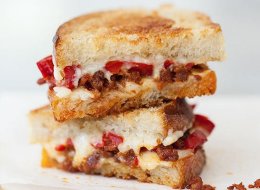 Some ingredients are so great they can completely transform a recipe from something mundane into a true revelation. Chorizo is one of those ingredients. The Spanish pork sausage is packed with so much flavor (from spices like cumin and paprika) that just a little bit of it goes a long way to improve a recipe.
If you've never used Spanish chorizo before you should know that it doesn't need a long time to cook since it's fully cured. A brief saute is all that's needed to crisp up the sausage and extract the flavor and bright red color.
It's pretty much a meal saver; let the recipes below show you what we mean.
Cheesy Chorizo Caramelized Onion Dip

Foodie Crush

Chickpeas, Chorizo And Chèvre

James Ransom/Food52

Sopa Seca De Fideo

Simply Recipes

Chorizo And Peppadew Pepper Grilled Cheese

Foodie Crush

Chickpea, Spinach And Chorizo Frittata

James Ransom/Food52

Chorizo In Chile

The Beeroness

Chorizo Stuffed Mushrooms

A Spicy Perspective

Chorizo Queso

Macheesmo

Quinoa And Vegetable Chorizo Salad

Johanna Frenkiel/Food52

Paprika-Scented Manchego Chorizo Puffs

James Ransom/Food52

Chile Chickpea Brodo With Chorizo And Greens

Family Style Food/Food52

Chorizo Mac And Cheese

Simply Recipes

Quick Breakfast Muffins

A Spicy Perspective

Chorizo And Yam Tacos

Macheesmo

Chorizo Empanadas

Buns In My Oven

Chorizo Cornbread

boulangere/Food52

Brussels Sprouts With Chorizo Beer Hash

Brussels Sprouts for Breakfast/Food52

Ciabatta Stuffing With Chorizo, Sweet Potato, And Mushrooms

melissav/Food52

Oven-Fried Chorizo Croquettes

Gimme Some Oven
Want to read more from HuffPost Taste? Follow us on Twitter, Facebook, Pinterest and Tumblr.