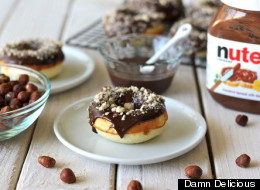 Hey fellow Nutella lovers, we've got just the thing that'll make your week, your month... maybe your year. It involves a lot of Nutella. We already showed you how to make Nutella from scratch, but now we're sharing with you all of our favorite recipes that use Nutella at the main ingredient.
Because even though most of us Nutella fiends are more than happy to eat the chocolatey spread straight from the jar, this hazlenut-based spread works wonderfully in all kinds of baked goods. Cakes, donuts, muffins, the Nutella possibilites are endless.
Want to read more from HuffPost Taste? Follow us on Twitter, Facebook, Pinterest and Tumblr.
Nutella Banana Swirl Muffins

The Novice Chef

Nutella Mascarpone Chocolate Tarts

Bell'alimento

Nutella Crunch Ice Cream Pie

Bakers Royale

Sweet & Spicy Bacon Coated With Nutella

Bell'alimento

Nutella Cupcakes

Bakers Royale

Bacon & Nutella Napoleons

A Spicy Perspective

Nutella Bread Pudding

Steamy Kitchen

Shortbread Cookies With Nutella, Banana And Almonds

Steamy Kitchen

Banana Bread With Nutella Swirls

Pass The Sushi

Nutella Brownies

Buns In My Oven

Chocolate Chip Cookie Sandwiches With Nutella Cream Cheese Filling

Diethood

Nutella & Peanut Butter Granola Bars

Pass The Sushi

Coconut Nutella Cupcakes

A Spicy Perspective

Nutella Pudding

Minimally Invasive

Nutella Bundt Cake

From Away

Nutella Ding Dong Cake

Foodiva's Kitchen

Nutella Espresso Mug Cake With Fresh Raspberries

Mandy Ashcraft

Mini Nutella Tarts

Bakers Royale

Nutella Pancakes

Bell'alimento

Strawberry Nutella Oatmeal

Annie's Eats

Roasted Hazelnut Nutella Roulade

Adventures in Cooking

Nutella Shooters

Bell'alimento

Nutella Surprise Cookies

Macheesmo

Zucchini Nutella Swirl Muffins

A Spicy Perspective

Nutella Cinnamon Rolls

Averie Cooks

Nutella Cheesecake

Gimme Some Oven

Nutella Hot Chocolate

Gimme Some Oven

Nutella Doughnuts

Damn Delicious

Oatmeal Nutella Scones

Portuguese Girl Cooks

Nutella Crepe Cake

Kumquat

Nutella Cheeseball

Gimme Some Oven

Nutella Chocolate Chip Banana Bread

Something Swanky

Salted Dark Chocolate Nutella Cookies

The Faux Martha

Nutella Milkshakes

The Little Kitchen

Nutella-Stuffed Brown Butter And Sea Salt Chocolate Chip Cookies

Ambitious Kitchen

Chocolate & Nutella Macarons

Cake & Allie

Tuscan Nutella And Meringue Tart

Jul's Kitchen

Nutella Cupcakes With Nutella Buttercream

Chef In Training

Peanut Butter And Nutella Swirl Cookies

Une Gamine Dans La Cuisine

Nutella Gooey Butter Cake

Tidy Mom

Chilled Nutella Latte

Very Culinary

Nutella Cheesecake Bars

Tide and Thyme

Hazelnut Chocolate Cracked Macarons

eat. live. travel. write

Nutella No Bake Cookie

Vintage Mixer

Nutella Filled Baked Donut Muffins

US Masala

Banana Cake With Nutella Frosting

Mother Thyme

Nutella Baklava

Nutella Baklava

Chocolate Nutella Fudge With Sea Salt

Cookin' Canuck

Nutella Truffles

Sharmis Passion

Nutella And Banana French Toasties

Duhlicious