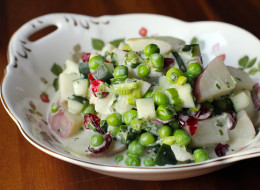 No backyard barbecue is complete without potato salad -- this classic dish has a permanent place in our summertime menu. When potato salad is made right, it's something pretty special. Its place alongside grilled chicken or burgers balances out the charred flavors of the grill with potato salad's creamy attributes.
The only problem with potato salad is that it's pretty easy to completely screw it up. If you're a little heavy-handed with the mayonnaise -- or for some people, if you use it at all -- or if you don't use the right kind of potatoes you can end up with a big bowl of something no one wants to eat. Don't let that happen to you. Stick with the recipes below; they won't let you down.
Lemony Roasted Potato Salad

Bev Cooks

Spring Potato Salad With Tuna

Made in our Kitchen

Stetson Potato Salad

Foodie Crush

Fingerling Potato Salad With Honey Dijon Vinaigrette

Julie Toy

Loaded Baked Potato Salad

Foodie Crush

Tangy Red Potato Bacon Salad

This Gal Cooks

Potato Salad With Hummus-Yogurt Dressing

Roasted Potato Salad With Bacon Dressing

Foodie Crush

Roasted Jalapeno Tater Salad

Macheesmo

Chimichurri Potato Salad

Macheesmo

Warm Bacon Potato Salad

Steamy Kitchen

German Potato Salad With Mustard And Scallions

New Media Publishing

Warm Asian Potato Salad With Sesame & Fresh Chile Dressing

Steamy Kitchen

Honey Mustard Potato Salad

Macheesmo

Roasted Potato Salad

How Sweet It Is

Spring Fling Potato Salad

Wonderland Kitchen

Simple Sicilian Potato Salad

NakedBeet

Provencal Potato Salad

Simply Recipes

Roasted Garlic Potato Salad

SavvyJulie

Pea And New Potato Salad

EatingWell

Lebanese Potato Salad

EatingWell
Want to read more from HuffPost Taste? Follow us on Twitter, Facebook, Pinterest and Tumblr.