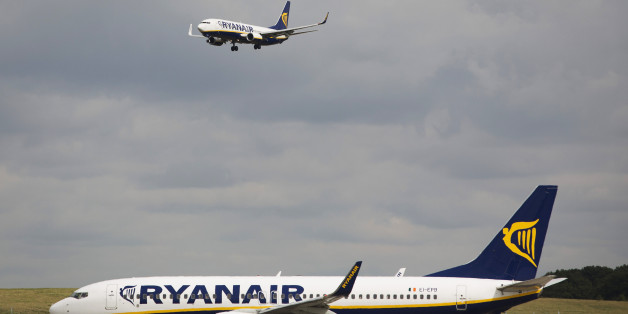 Ryanair just can't win. Their latest attempt at pleasing customers and gaining a leg up on the budget airline competition, has landed them some long lines and cranky passengers.
Last year, the airline allowed passengers to bring a second carry-on bag aboard and, just as everyone suspected, it's not exactly working. The idea was that the second "smaller bag" would fit under the seat in front of you, which is in theory, a fair idea. But the problem lies within the overhead bin space, or lack thereof.
The overhead compartments can only accommodate 90 bags, which is far less than the number of passengers on a typical 737 flight, especially if people are bringing two bags. With this limited space, passengers are lining up at the gate long before boarding in an attempt to guarantee themselves some space over their heads. If you don't make it to be one of the lucky first 90 passengers, your bag will be placed below the plane, free of charge.
When the airline announced their new allocated seating policy back in the fall, it was intended to stop the massive queues forming long before take off. This baggage space blunder has brought those queues back ten-fold, and passengers are all but pleased.
Update: Ryanair reached out in response to this post stating,
All Ryanair customers are entitled to bring a free 10kg cabin bag and free smaller second bag onboard. The overhead lockers have capacity for cabin bags & smaller bags from the first 90 passengers and when that limit has been reached, any remaining cabin bags are placed in the hold (in line with the policy of many other airlines) free of charge. Customers are free to bring their second smaller bag onboard, regardless of the cabin bag capacity, as these bags fit under the seats. The second free bag is part of a programme of customer enhancements Ryanair is continuing to roll out, including allocated seating, a brand new website, mobile boarding passes, a new app and tailored family and business products
So, to be fair, it is common practice among many airlines to place excess baggage below the plane. Ryanair claims to be working on appeasing passengers and improving their customer service experience.