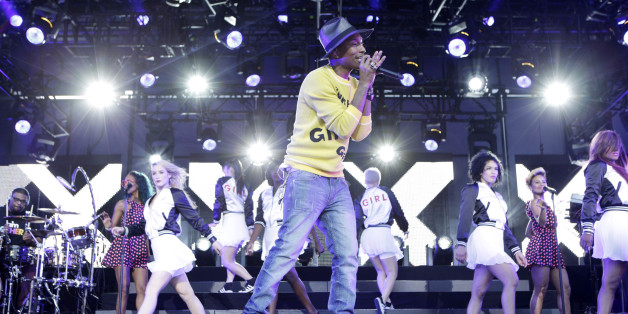 As a two-time Grammy Producer of the Year recipient, Pharrell knows how to write a song that you simply can't forget. In trying to figure out Pharrell's secret to success, the blog DiscoPop appears to have found a signature introduction threaded along many of his most popular songs. At the beginning of songs like "Happy," Kelis' "Milkshake," Robin Thicke's "Blurred Lines" and Snoop Dogg's "Drop It Like It's Hot," there are four repeating notes before the song breaks into the beat.
Just as a number of hip-hop producers use the same sample stating their name on the tracks that they put out, this is essentially Pharrell's watermark. As DiscoPop points out, "It's not a bad technique -- for one thing, you get to the melody quicker, and that is a sure-fire way of making your song memorable and radio friendly." It's as if he is counting out four, saying, "Just close your eyes, let me hypnotize you."
The Many Hats of Pharrell Williams
SUBSCRIBE AND FOLLOW
Get top stories and blog posts emailed to me each day. Newsletters may offer personalized content or advertisements.
Learn more