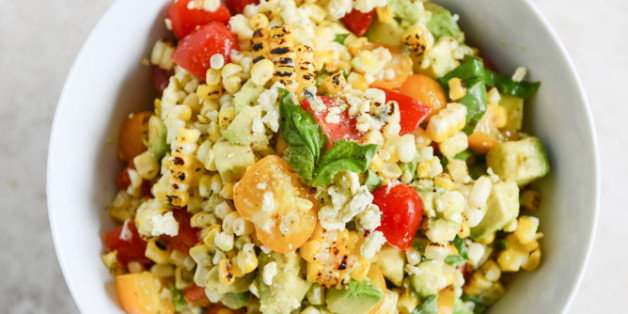 How Sweet It Is
Grilling season is upon us, and you know what that means: BURGERS. When you've got hot coals going, we know that the natural instinct is to grill up some hamburger patties. The two go hand in hand. But there's so much more you can be doing with your grill -- like guacamole -- and Memorial Day weekend is just the time to broaden your horizons.
Everyone should branch out this grilling season. If burgers are your go-to, try chicken. If you're tired of chicken, give pizza a chance. And once you've done all that, try these awesome recipes for grilled bananas, salmon filets and more. There's so much the grill can do.
1

Grilled Beef Meatball Subs

Bev Cooks

2

Grilled Zucchini With Goat Cheese And Pinenuts

Foodie Crush

3

Grilled Bananas With Buttered Maple Sauce

Thirschfeld/Food52

Foodie Crush

5

Honey Grilled Watermelon Caprese Salads

How Sweet It Is

Macheesmo

7

Smoky Heirloom Tomato And Grilled Peach Pasta Salad

How Sweet It Is

8

Grilled Peaches With Mascarpone Cheese

Foodie Crush

9

Grilled Caprese Skewers

Foodie Crush

10

Grilled Kale Salad With Berries & Nectarines

Two Peas and their Pod

11

Easy Grilled Corn Tomato Salad With Blue Cheese And Basil Ribbons

How Sweet It Is

12

Grilled Citrus Tuna Steak

Bev Cooks

13

Quinoa With Grilled Summer Squash & Green Beans

Two Peas and their Pod

14

Southwestern Grilled Sweet Potato Salad

Two Peas and their Pod

15

Grilled Lemon Halloumi

James Ransom/Food52

Macheesmo

17

Grilled Fruit And Vegetable Kebab

Eclectic Recipes

18

Parmesan Garlic Grilled Corn

Eclectic Recipes

19

Challah Baked On The Grill

Camille Storch/Food52

20

Grilled Smokey Margarita

Girl on a Grill/Food52
Want to read more from HuffPost Taste? Follow us on Twitter, Facebook, Pinterest and Tumblr.
YOU MAY LIKE
CONVERSATIONS
FOLLOW HUFFPOST