 Poet and activist Maya Angelou was politically involved much of her life, beginning with her role in the civil rights movement and continuing with her poem presented at former President Bill Clinton's 1993 inauguration and support for Hillary Clinton's 2008 presidential campaign.
Angelou, who died Wednesday at the age of 86, offered many words of wisdom regarding politics during her life, as well as some timeless advice that could have been useful to politicians.
On Perseverance
"Nothing will work unless you do." (The Guardian) On Unity
"This is a country of Republicans, of Democrats and of independents. And we are going to work together to make it better. Or we will not. And we will make it worse. And that's dumb." (AP)
"We allow our ignorance to prevail upon us and make us think we can survive alone, alone in patches, alone in groups, alone in races, even alone in genders." (The New York Times)
"Politicians must set their aims for the high ground and according to our various leanings, Democratic, Republican, Independent, we will follow. Politicians must be told if they continue to sink into the mud of obscenity, they will proceed alone." (Letter to My Daughter) On Leadership
"I've learned that people will forget what you said, people will forget what you did, but people will never forget how you made them feel." (USA Today)
"A number of leaders, I'm sorry to say, have the belief that they're supposed to be above that. 'Don't get emotional on me. Tell me the facts.' Well, you see, facts can obscure the truth. You can tell so many facts that you never get to the truth, you tell the places where, the people who, the times when, the reasons why, the messes how, et cetera, et cetera, et cetera and never get to the human truth. What do the people feel? What is it they were missing? What did they want? What can I do for them? Those are the truths." (The Times-Picayune)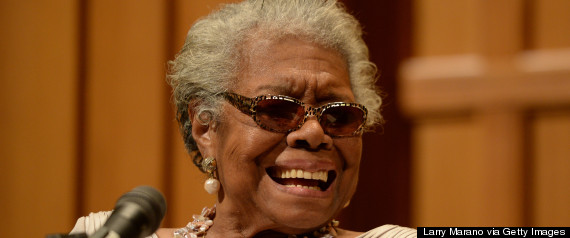 On Courtesy
"A bizarre sensation pervades a relationship of pretense. No truth seems true. A simple morning's greeting and response appear loaded with innuendo and fraught with implications. Each nicety becomes more sterile and each withdrawal more permanent." (Singin' and Swingin' and Gettin' Merry Like Christmas)
"It's one of the greatest gifts you can give yourself, to forgive. Forgive everybody." (Oprah)
Related on HuffPost:
Politicians React To The Death Of Maya Angelou
SUBSCRIBE AND FOLLOW
Get top stories and blog posts emailed to me each day. Newsletters may offer personalized content or advertisements.
Learn more