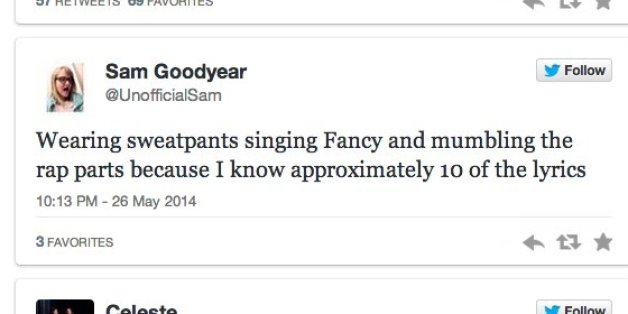 Every week, we round up the best 140-character quips and insights from our esteemed blogging team -- and other equally awesome teen tweeters. Scroll down to read the latest batch and share your own suggestions by following @HuffPostTeen!
This week's tweet roundup was compiled by Erin Whitten. Erin is a 17-year-old nerd from Boston, Massachusetts. She loves Tumblr, all-things coffee and music.
it's all fun and games until you see a picture of yourself from when you were in 7th grade
Wearing sweatpants singing Fancy and mumbling the rap parts because I know approximately 10 of the lyrics
*raps beastie boys w confidence of someone who does not look like a small, asian girl*
Five year plan: get a sandwich named after me
My phone dies just like the amount of times I fall asleep on a school day
Alphabet soup more like times new ramen
We live in a world where Rebecca Black has way more Twitter followers than the Vice Pres of the US. Not sure if that's hilarious or tragic.
While I love shopping for summer clothes, alas, for I am going to college in the Arctic #MichiganProblems
I missed Burger King's breakfast menu by about 7 minutes and now I'm reevaluating my whole existence.
Do you ever go to sleep and accidentally hibernate..
Follow HuffPost Teen on
Twitter |
Instagram |
Tumblr |
Pheed |
SUBSCRIBE AND FOLLOW
Get top stories and blog posts emailed to me each day. Newsletters may offer personalized content or advertisements.
Learn more