Claire Shipman With Marlo Thomas (VIDEO)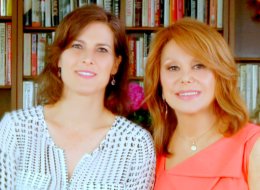 It was such a pleasure to have Claire Shipman, co-author of The Confidence Code, as my guest on Mondays With Marlo. A successful news anchor, accomplished author and busy mother, Claire is truly a role model for the modern, confident woman. She covered everything from tips on how to become more confident in the workplace, to explaining the complex science behind the confidence gene, to mastering the "do's" and "don'ts" of confidence building. Be sure to watch our full video for all of her great tips and advice.
How confident are you? Take the Confidence Quiz here to find out now!
For more of Claire's expert confidence tips, view the slideshow below:
Confidence Boosting Habits From Claire Shipman
A calm brain is the ultimate confidence tool, and meditation is so common and valuable that it's being taught in some of the military's basic training courses. Meditation helps re-wire the brain. Your fear center -- the amygdala -- shrinks. You have an increased ability to control your emotions and to be clear and calm about your goals.

New research shows that gratitude is one of the keys to happiness and an optimistic mindset. Find it in the tiny things: As someone lets you merge into traffic, notice, and be grateful, instead of just zipping ahead looking for your next maneuver. Believe and be grateful for kind words said about you. It will transform your mood, and simply saying, "Thank you, I appreciate that" will also make the other person feel good.

Battle feelings of being overwhelmed by breaking it down. Teasing out the individual parts of a challenge, and accomplishing even one‐tenth of it, can give you a confidence boost. Take things one small step at a time.

A lack of sleep and exercise produces an extremely anxious brain. Being close to friends boosts oxytocin levels. Oxytocin is the hormone released during sex and other intimate gestures that has been proven to strengthen social bonds in mammals. So, indulge in guilt-free girlfriend time!

Sitting up straight will give you a short‐term confidence boost, according to a recent study conducted by Richard Petty and his colleagues. Try it now. Abs in. Chin up. Astonishingly simple, woefully infrequent. Try nodding your head. You feel more confident as you talk when you do it, plus you're sending a subconscious signal that makes others agree with you. And, yes, always sit at the table. Otherwise, you're handing power away by not sitting with those who have it.

Confidence isn't about pretending, or putting on an act; it springs from genuine accomplishment and work. However, the appeal of faking it, if only for a while, is that it offers a crutch -- a way to begin. Don't pretend to be anything or anyone -- simply take action. Do one small brave thing, and then the next one will be easier, and soon confidence will flow. Fake it till you make it sounds catchier -- but this actually works.

When all else fails, you can always use oxytocin spray. Claire tried the spray, and called it "modern liquid confidence!" "Our husbands seemed sweet, and our work and children felt manageable!" Claire says in her book.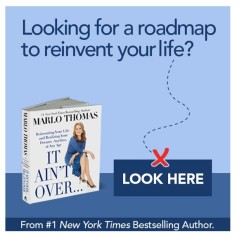 Add Marlo On Facebook:
Follow Marlo on Twitter:

Weekly Newsletter

Sign up to receive my email newsletter each week - It will keep you up-to-date on upcoming articles, Mondays with Marlo guests, videos, and more!

Sign up here