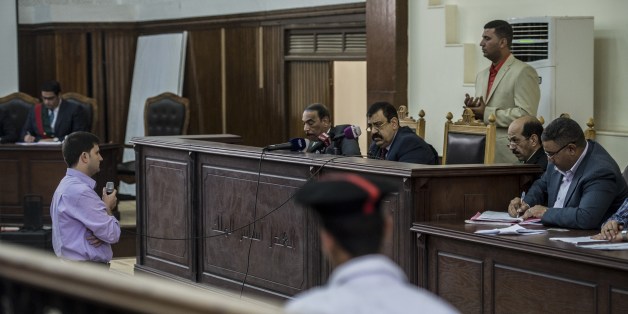 KHALED DESOUKI via Getty Images
The trial of three Al Jazeera journalists in Egypt continued on Sunday, angering the defendants, their supporters and other journalists around the world.
Peter Greste, Mohamed Fahmy and Baher Mohamed were denied bail in their 11th court appearance since their arrest in December on charges of broadcasting false news and conspiring with the Muslim Brotherhood. The defendants and Al Jazeera reject the charges.
The journalists last appeared in court in May, when the prosecution presented evidence against them. That evidence included a picture that was allegedly Photoshopped, an audio clip of a Gotye song and video clips.
The prosecution's charges were based on the written statements from members of a technical committee from Egyptian state television. When the technical committee members testified in court Sunday, however, they were unable to name which Al Jazeera videos they watched and which videos allegedly supported the Muslim Brotherhood.
BBC correspondent Orla Guerin was among the media in the courtroom covering the trial.
Lawyer for @repent11 asking head of technical committee what made him conclude the video material was pro Moslem Brotherhood ?
#ajtrial
Witness says 'many scenes and many videos' made me conclude this. 'I don't remember. It's in the report'.
The experts' testimony, The Guardian's Patrick Kingsley reported, contradicted the prosecution's charges. Guerin tweeted:
Notion of a technical committee of 'experts' coming unstuck here.
Fahmy also shouted out from his cage in the courtroom.
Mohamed Fahmy livid. "The prosecutors should be in the cage!" - says witnesses have admitted that case is baseless. pic.twitter.com/mvk4nzr36J
During recess @repent11 said the trial was a farce, and full of loopholes.
"If anyone fabricated anything it was the prosecutor'" he said.
"We are political hostages. I call on Egypt's new President to recognise that we are innocent" - Mohammed Fahmy @ repent11 #ajtrial
The trial has been adjourned until Thursday. Greste, Fahmy and Mohamed have been in jail in Cairo for 155 days.
FOLLOW HUFFPOST