Facebook has terminated an ad campaign sponsored by a group that advocates for the re-election of Syrian Dictator Bashar Al-Assad. Now, an activist group is pressuring the company to go even further.
On Monday, The Syria Campaign, a global civilian activist group, took Facebook to task for running the advertisements. In a call to action on the campaign's website, the group urged Mark Zuckerberg to "Reject Assad's Money."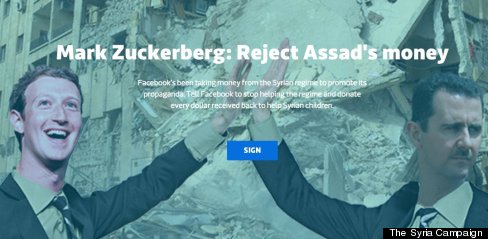 The sponsored ads, which appeared in some users' Timeline sidebar, promoted a page for Assad's re-election campaign: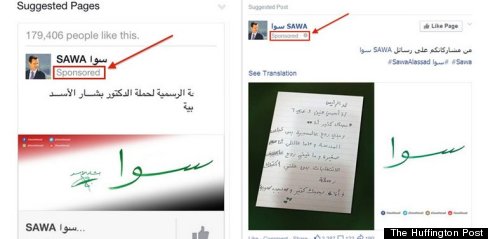 In an email to The Huffington Post, a Facebook spokesperson said the company "terminated" the ads after realizing they "violate[d] our policies."
"The ads referenced are no longer on our platform," he said.
Facebook was quick to add that the ads originated outside of Syria. "We comply with all relevant Syrian sanctions," the spokesperson said. "And we do not permit ads originating from or targeting Syria."
The Syria Campaign insists those two points -- that the ads were purchased by an IP address outside of Syria, and that the promoted account was not verified as Assad's -- are both beside the point.
"It doesn't matter if the ads were purchased from inside Syria or outside of its borders," a representative of The Syria Campaign told The Huffington Post. "The point is that money exchanged hands in an effort to promote a dictator, widely regarded as a war criminal by the international community."
"These ads drove traffic to promote Assad's propaganda," he added.
According to the spokesperson, the group understands that this could have been an oversight on the part of Facebook, but believes the onus is now on Facebook to make right on the money that changed hands.
The Syria Campaign has started a petition calling on Facebook to donate the ad revenue to organizations that help Syrian children. They outlined their case in a YouTube video uploaded to the site on Monday:
Facebook declined to comment on whether it has any intention of donating any money made off the ads.
FOLLOW HUFFPOST