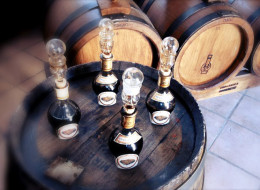 We hope you like your salad with a side of fraud, especially if you've dressed it with a balsamic vinaigrette. Everyone calls balsamic "vinegar," and there's no reason for you to have assumed that balsamic is anything but the product its name suggests. It's only natural that you'd assume balsamic vinegar is in fact, well, balsamic vinegar.
We hate to be the ones to tell you this, but you've been lied to. First of all balsamic vinegar isn't like other vinegars. Balsamic is made from aged pressed grapes, not wine, and the very definition of vinegar is a product made from fermented alcohol. Liars. But that's not the only bit of fraud with which balsamic is riddled. Most of the balsamic you buy at the grocery store isn't even balsamic at all.
People ought to know what balsamic vinegar really is -- and what you're getting when you buy it at the supermarket. Take a minute and let us break it down for you.
Balsamic vinegar is NOT like other vinegars.

DEA / G. MAJNO via Getty Images

Balsamic vinegar isn't made from wine, but from the juice of grape pressings.

DEA / G. CAPPELLI via Getty Images

Balsamic vinegar is aged like wine.

Flickr: Eric and Abbie Harper

It can cost just as much as a great bottle of wine.

Flickr: Linda

Watch out for fake balsamic!

Flickr: ashley tyree

For true balsamic vinegar, look to Modena or Reggio Emilia.

Chicago Tribune via Getty Images

Even if it's not TRUE vinegar, it still tastes awesome on everything.

svariophoto via Getty Images



Want to read more from HuffPost Taste? Follow us on Twitter, Facebook, Pinterest and Tumblr.