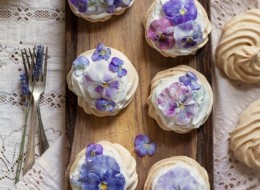 Sometimes when you arrange a bouquet of flowers just so, they look so pretty you kind of want to eat them. We have great news: sometimes you can. There are way more edible flowers out there than you would expect, and while most of them are perfume-y and extremely floral (like roses and chamomile), some of them are hearty, crisp and taste an awful lot like really pretty, spicy lettuce.
Edible flowers tend to pop up in recipes during late spring and early summer, just before the high season of things like tomatoes and squash. If you have never eaten a squash blossom, we have to insist, this is the summer to do it. You will love it and never look back. We pulled together some of the most beautiful ways to use edible flowers, from cakes to soups to frittatas and more. Lots of farmer's markets and grocery stores will sell little packages of edible flowers, but if you decide to go rogue and buy your own, always, always make sure you are actually buying flowers that are edible. Once you're sure, experiment away. Just looking at these makes us feel like we need to run around outside... and eat some flowers.
Flower Power Cake

Green Kitchen Stories

Bellflower Ice Cubes

Mimi Thorisson/Manger

Creamed Rose And Honey Popsicle

Adventures In Cooking

Gazpacho

Anna Mor from ChefWanabe

Candied Pansy And Viola Miniature Pavlovas

Adventures In Cooking

The Cornflower Kickback

Adventures in Cooking

Lavender Cupcakes With Candied Primrose

Twigg Studios

Squash Blossoms With Pimento Ricotta

Fredrika Stjärne

Chevre Cheesecake With Strawberries, Edible Flowers And A Pistachio Crust

Will Frolic For Food

Blueberry Violet Eclairs

Sift & Whisk

Persian Love Cake

Mimi Thorisson/Food52

Squash Blossom Frittata

frankieolives/Food52

Cherry-Blossom Dorayaki With Cinnamon-Edamame Filling

BoulderGalinTokyo/Food52

Heirloom Tomato Salad With Feta & Oregano Flowers

parsley thief/Food52

Midsummer Wedding Cupcakes

Lis Parsons

Tagliatelle Con Fiori Di Zucchine (Tagliatelle With Zucchini Flowers)

Lisa Linder

Wild Hibiscus Prosecco Cocktails

Bell'Alimento

Very Berry Cosmopolitan

A Beautiful Mess
Want to read more from HuffPost Taste? Follow us on Twitter, Facebook, Pinterest and Tumblr.