Spider-Man usually battles super villains like Doc Ock and Electro in the movies and comic books.
But lately, a fan of the superhero has chosen more mundane arch-enemies, the potholes in Virginia Beach, Virginia.
"I've contacted the pothole number, supervisor, assistant managers, and they say they've already been out or they say they're going to be out, it's been months and months now," he told WTKR. "It's June, I don't know what they're waiting on."
Instead of holding out for a hero, Love tried to become one -- literally.
On Wednesday, he took to the streets dressed up as your friendly neighborhood Spider-Man to gripe about the potholes through the use of handmade cardboard protest signs.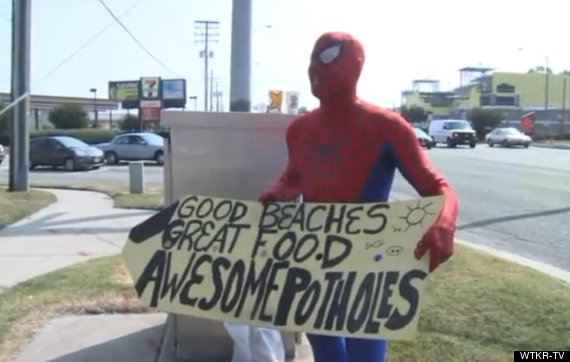 Around 11 a.m., a city worker who patches potholes stopped to find out what Love was slinging.
Love told him about the potholes along the city's main thoroughfares: Northampton, Shore Drive, Virginia Beach and Independence boulevards, HamptonRoads.com reports.
As word about Spider-Man's pothole battle reached around the town, Virginia Beach Public Works quickly attempted to put a super-spin on his heroic efforts by releasing a statement stating that the department has fixed 4,000 potholes in the last six months, compared to 3,500 in all of 2013.
"Like Spider-Man, we encourage people to call us whenever they discover a pothole and our policy is to repair them within 48 hours. We have also installed a special phone in the Bat Cave just for Spider Man to report potholes so he will no longer have to suffer in the heat next to oncoming traffic.

To paraphrase Spider-Man: "With great power comes great responsibility." This is (our) gift, (our) curse. Who are we? We are . . . Virginia Beach Public Works!"
The folks at WTFark.com have put together a trailer imagining how Love's pothole battle might be turned into the next Spider-Man movie.
Like Us On Facebook |

Follow Us On Twitter |

Contact The Author
SUBSCRIBE AND FOLLOW
Get top stories and blog posts emailed to me each day. Newsletters may offer personalized content or advertisements.
Learn more