Balsamic Is The Vinegar Your Recipes Have Been Missing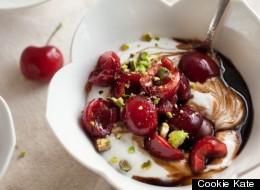 Balsamic vinegar is not just for salad dressings. The sweet, sour, woody condiment that is so often served with oil onto a bed of leafy greens has a lot more potential. It goes nicely with a number of dishes, savory and sweet alike. And we think that when it comes to balsamic, you can never have enough reasons to use it.
There's a reason that balsamic is the king of vinegars, it's carefully processed and lovingly aged before it can bear the name of balsamic. (Though do be careful of cheap wine vinegars that are masquerading as this sweet, brown syrup.) Once you get your hands on the real thing, here are a number of recipes you can celebrate with.
Balsamic Cherry Pie With A Black Pepper Crust

Adventures in Cooking

Balsamic and Raisin Glazed Salmon

bell'alimeto

Whole Wheat Roasted Red Pepper + Fontina Pizza With Balsamic Glaze

How Sweet It Is

Balsamic Orange Glazed Chicken with Creamy Goat Cheese Polenta

Half Baked Harvest

Roasted Tomato Caprese Grilled Cheese With Balsamic Glaze

How Sweet It Is

Barbequed Maple Balsamic Burger

Adventures in Cooking

Cherry, Pistachio and Balsamic Honey Yogurt

Cookie + Kate

Grilled Pork Loin Roast With Balsamic And Raspberry Chili Glaze

Foodie Crush

Balsamic Roasted Strawberry And Rhubarb Sorbet

Bell'alimento

Grilled Ribeye with Balsamic Butter Sauce

Bell'alimento

Raspberry Balsamic And Pecan Encrusted Rack Of Lamb

Adventures in Cooking

Butternut Squash Risotto with Pine Nuts, Balsamic Drizzle, and Fried Sage

love & olive oil

Pistachio-Crusted Halibut with Fennel Balsamic Gastrique

Tartine and Apron Strings

Slow Cooker Balsamic Chicken

Foodie Crush

Ricotta Peach Galette With Balsamic Glaze

Faux Martha

Balsamic Tomato and Mozzarella

Beloved Green

Balsamic And Honey Chicken Skewers

Foodie Crush

Balsamic Roast Beef

Quick'n Easy Recipes

Balsamic Roasted Root Vegetables

The Novice Chef

Berry-Balsamic Cobbler

Tutti Dolci

Roasted Beet Balsamic Mustard

Adventures in Cooking

Rosemary And Balsamic Marinated Steak

Eclectic Recipes

Balsamic Strawberry & Goat Cheese Crostini

Cooking For Keeps
Want to read more from HuffPost Taste? Follow us on Twitter, Facebook, Pinterest and Tumblr.