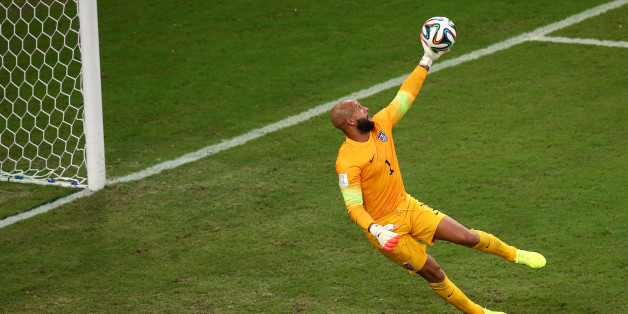 There is a reason that U.S. soccer fans proudly chant "We have Tim Howard." The U.S. goalkeeper made an incredible diving save deep into the first half to deny Portugal a goal that would have doubled the deficit his team was facing.
With Portugal already leading 1-0 thanks to an early defensive miscue, Howard made a fingertip save on a shot from Eder in the 45th minute. Moments before that save, Portugal striker Nani, who scored the opener in the World Cup clash in the Amazon, banged a shot off the goalpost as Howard dove to his left. The ricochet came to Eder with Howard still getting up off the pitch. Eder's right-footed shot seemed headed for the back of the net when Howard leapt up to make a stunning save with his right hand.
(GIF via @FlyByKnite)
(GIF via @ddocket)
SUBSCRIBE AND FOLLOW
Get top stories and blog posts emailed to me each day. Newsletters may offer personalized content or advertisements.
Learn more