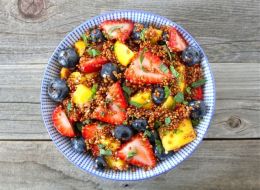 Here's the thing about fruit salad: it usually sucks. Watery melon, over-ripe berries, potentially canned pineapple and, in the worst cases, gummy bananas. We have all had this fruit salad. For some of us, it has ruined fruit salad. Today, we want to heal our wounds with a few fruit salad recipes that don't suck.
What we have to do to make fruit salad good again is relax our grip on the idea that ONLY fruit can go into them. We allow the occasional strawberry or blueberry into our arugula salads, so we should extend the same courtesy to the occasional vegetable in a fruit salad for balance's sake. The fruit salad recipes we've compiled for you today run the gamut from breakfast fruit salads with yogurt or quinoa, to more main course-oriented fruit salads with cheese and ham (oh, yes we did), to dessert-like fruit salads with chocolate, whipped cream and sorbet. Let's take back fruit salad, guys.
Here are 27 fruit salads that don't suck.
Red White and Blue Salad

Foodie Crush

Yoghurt With Toasted Buckwheat, Mint, Berry + Pomegranate Salad

Kate Olsson/Food52

Quinoa Fruit Salad With Honey Lime Dressing

Two Peas & Their Pod

Blood Orange Salad With Olives

Sarah Shatz/Food52

Blueberry Peach Fruit Salad With Thyme

Simply Recipes

Avocado, Strawberry, And Mango Salad

LifeTastesLikeFood/Food52

Honey Grilled Watermelon Caprese Salads

How Sweet It Is

Berries In Chocolate Bowls

A Beautiful Mess

Tropical Fruit Salad With Mangoes and Mint

The Clever Carrot

Watermelon And Goat Cheese Salad With A Verbena Infused Vinaigrette

Sarah Shatz/Food52

Crook's Corner's Green Peach Salad

Jennifer Causey/Food52

Avocado and Melon Salad

Food52

Goat Cheese Stuffed Fig, Melon And Prosciutto Salad

Foodie Crush

Mango, Melon Salad

Kitchen Butterfly/Food52

Plum Avocado Summer Salad

James Ransom/Food52

Peach and Beet Salad

Alexandra Cooks

Grape Salad with Toasted Garlic, Basil and Feta

savorthis/Food52

Strawberry Mango Jicama Salad

Two Peas & Their Pod

Fresh Fruit Salad With Honey Lime Syrup

Pass The Sushi

Tomato, Peach, & Burrata Salad

Two Peas & Their Pod

Tropical Fruit Salad

Ray Kachatorian

Grilled Watermelon Salad

Verses from my Kitchen

Persimmon Pomegranate Fruit Salad

Simply Recipes

Strawberry and Mango Fruit Salad

Cookin' Canuck

Ruby Fruit Salad

Martha Stewart

Tropical Fruit Salad With Coconut

Skinny Taste

Melon and Feta Salad

Closet Cooking
Want to read more from HuffPost Taste? Follow us on Twitter, Facebook, Pinterest and Tumblr.