For most of the past week, much of lakefront Chicago has been shrouded in a very thick, very eerie fog like something out of a horror film, allowing the bulk of its iconic skyline to pull a vanishing act.
The situation has a relatively simple weather explanation but has, nonetheless, set the scene for some incredible photos of the city.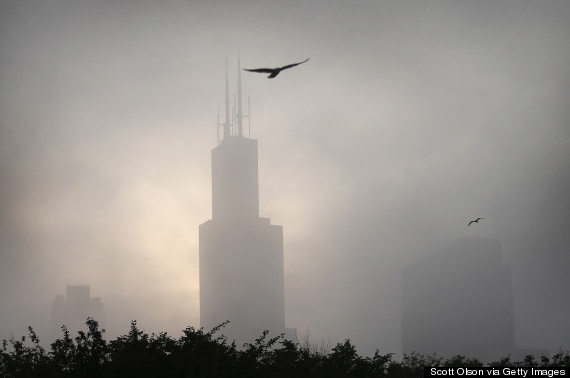 Holy fog Batman!!! I'm exploring #Chicago on this cool morning until my tour guide @EllieBodner awakes. pic.twitter.com/eiI75NnUkD

— Suzanne Boyd (@SuzanneBoyd) June 21, 2014
Dense fog advisory in effect for Chicago http://t.co/K0mGLUrz3o pic.twitter.com/Zgu30dHbSO

— ABC 7 Chicago (@ABC7Chicago) June 27, 2014
AccuWeather meteorologist Frank Strait explained to the Chicago Sun-Times that the extremely foggy conditions are largely due to the fact that Lake Michigan remains unusually cold for this time of year -- the result of the historic, record-breaking "polar vortex" the city experienced this winter.
In addition, Strait said, when the high-moisture air mass currently over the region moves over the lake, it causes fog to develop rapidly. From above, it looks like a giant cotton ball has swallowed up the city:
@NASA modis satellite image of fog on Lake Michigan hugging the coastline yesterday. #Chicago pic.twitter.com/MltzLMGDqS

— Chris Dolce (@chrisdolcewx) June 27, 2014
Other cities along the still-chilly Great Lakes have also seen much more fog than usual for the same reason.
Duluth, Minnesota, has also been coated with fog:
As has Muskegon, Michigan:
Dense fog in Muskegon with 1/4 mile visibility. #wmiwx pic.twitter.com/EJbLw40Fr8

— Aaron Ofseyer (@aaronofseyer) June 26, 2014
FOLLOW HUFFPOST