Nutella Ice Cream Has Finally Arrived, Thanks To Carvel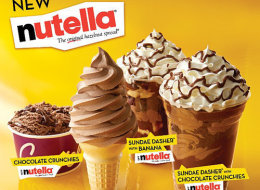 You may have dreamed about it, but until now, Nutella ice cream has only been a figment of your imagination. Today, thanks to Carvel, Nutella ice cream is finally a reality. It's available nationwide starting today, June 30, and will be sold until September 30. So hurry up, Nutella fans!
Carvel and Nutella both have big birthdays this year, and they're thankfully teaming up to celebrate. Carvel is celebrating its 80th anniversary this year and giving itself, and all of us, a great birthday present by releasing this Nutella ice cream. Nutella is turning 50, and in addition to partnering with Carvel, the company has opened two Nutella bars in Eataly Chicago and Eataly New York. Nutella also celebrated its birthday by teaming up Cronut™ chef Dominique Ansel to make special, one-day-only Cronut™ hole made with made with Nutella.
While you may have seen chocolate-hazelnut ice cream before, this is the first time an ice cream brand has ever partnered with Nutella. Carvel is incorporating Nutella into four ice cream treats:
Soft-Serve Ice Cream made with Nutella
Sundae Dasher with Banana, which has layers of soft-serve made with Nutella and Carvel Crunchies, and topped with whipped cream and Nutella.
Sundae Dasher with Chocolate Crunchies, which has layers of soft-serve made with Nutella and bananas, and topped with whipped cream and Nutella.
Hand-Scooped Chocolate Ice Cream layered with Nutella and Carvel Crunchies, then topped with more Nutella.
The Nutella flavor isn't overwhelming in the ice cream, which may disappoint some Nutella fans. When you get a bite swirled with the spread, however, the flavor is overwhelming -- in a good way. If you like bananas, the Sundae Dasher with Banana is for you. However, be warned that in the battle of competing flavors -- banana vs. Nutella -- banana definitely wins. Our favorite was the hand-scooped chocolate ice cream layered with Nutella and Carvel Crunchies, because it had the most apparent Nutella flavor. If you get your hands on one of Carvel's new Nutella ice cream treats this summer, let us know what you think!
Want to read more from HuffPost Taste? Follow us on Twitter, Facebook, Pinterest and Tumblr.