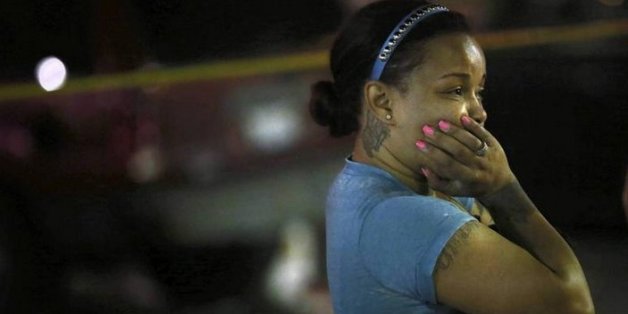 Tribune reporter Peter Nickeas and photographer E. Jason Wambsgans worked the overnight shift during the holiday weekend when a staggering 82 people were shot and more than a dozen killed. The journalists documented their crime coverage with live updates on Twitter and Instagram including some grim images that show just how destructive the violent weekend was.
Here's what it looks like to report on more than 80 shootings in just 4 days:
Shots fired, couple blocks north east of 90/Loomis #Chicago
Can smell the fireworks all over
2 dead, 10 wounded in shootings, 3p Thursday - 5a Friday #chicago
Truth RT @megcraig1: We're going to play way more of the "gunshots or fireworks?" game tonight than I'd like. #chicago
"Just got a downer, female down, not sure what's wrong with her, behind the bus. Ambulance rolling." Chicago/Clark #chicagoscanner
"GET ON THE FUCKING GROUND." #chicagoscanner near where police found a gunshot victim
Many shots fired calls, called in by police, nearby MT @SPOTNEWSonIG: 1 assault weapon recovered 11728 S Princeton.
Seven (at least) people shot, including mutual combatants shooting between cars tonight #chicago
36 people shot, 3 fatally, this holiday weekend (since 330p Thursday). 3 shot by police. #chicago
It really is a beautiful night outside.
Shooting north of this scene we are at. On Harvard at 113th. 6 or 8, then one more. Saw guys running between cars.
Impressive lightning and thunder but no rain yet. People still getting shot - most recently in 011 on the West Side. #chicago
12 people shot since 9 p.m. At least 2 dead. #chicago
Well the rain is here now, and holy god it's like I'm in a car wash
"Do you have a condition on the victim?"
"Squad at this time it does not look good." #Chicagoland
29 shot Sunday afternoon into the night. 4 dead, 25 wounded between 230p and 330a. Several remain in critical condition. #chicago
I missed one shooting. Was in the story but I didn't count it. 82 shot, 68 total wounded, 14 dead.
SUBSCRIBE AND FOLLOW
Get top stories and blog posts emailed to me each day. Newsletters may offer personalized content or advertisements.
Learn more