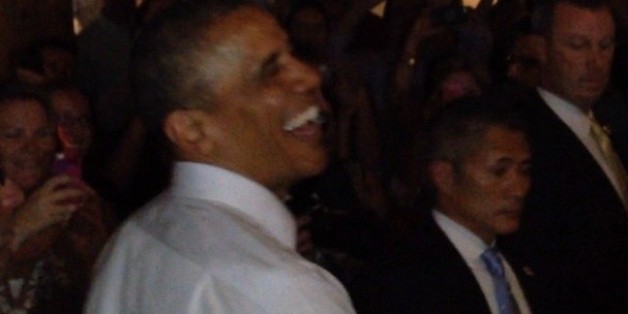 El Presidente Barack Obama pudo haber tenido un "encuentro cercano" con la marihuana en Denver, Colorado este martes en la noche cuando literalmente le ofrecieron si quería una probadita.
El video fue publicado en Instagram y se escucha a un hombre en la multitud que le pregunta a Obama: "Do you want a hit of this?" ("¿Quieres una probadita de esto?")
Obama no respondió, simplemente se rió ante el ofrecimiento.
La persona que subió el video identificado como manton89 también publicó una foto del Presidente jugando billar. Aunque no se especifica el lugar, todo apunta a que fue tomada en Wynkoop Brewing Company, sitio que fue visitado por Obama junto al gobernador de Colorado John Hickenlooper.
Anteriormente se le vio a Obama saludando a un hombre con una máscara de caballo.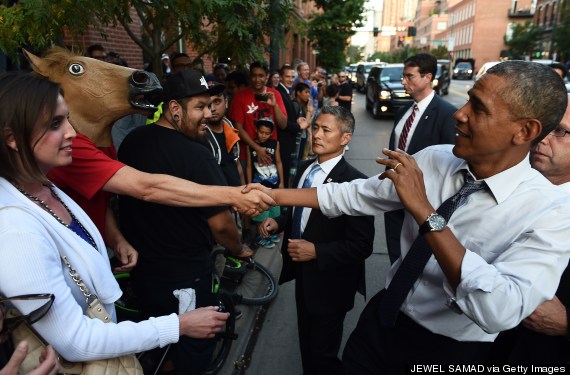 Y después de esta foto no faltaron los memes:
"Check out the guy in the Obama mask."
"Did no one tell him? Tuesday is horse mask day" RT @darth: "well…hello there" pic.twitter.com/fPF7efsgUB

— Mark Berman (@themarkberman) July 9, 2014
Anteriormente, el Presidente Obama ha dicho que la marihuana no es más peligrosa que el alcohol, "en términos de su impacto en el consumidor individual".
"Como ya se ha documentado bien, yo fumé marihuana cuando era un menor de edad y lo considero un mal hábito y un vicio, pero no es muy diferente de los cigarrillos que fumé desde que fui un joven hasta gran parte de mi vida adulta. No creo que sea más peligrosa que el alcohol", dijo el presidente en una entrevista con la revista The New Yorker.
El Departamento de Justicia federal fijó ocho prioridades para la regulación de la marihuana, que piden que los estados mantengan la droga lejos de los menores de edad, los cárteles de las drogas, la propiedad federal y otros estados, para evitar redadas federales en su territorio. La marihuana sigue siendo ilegal bajo la ley federal de Estados Unidos.
RELACIONADO EN HUFFPOST VOCES:
SUBSCRIBE TO & FOLLOW THE MORNING EMAIL
Start your workday the right way with the news that matters most. Learn more