The FIFA World Cup final between Argentina and Germany could herald a rift in the Catholic church, pitting Argentine-born Pope Francis against German Pope Emeritus Benedict XVI.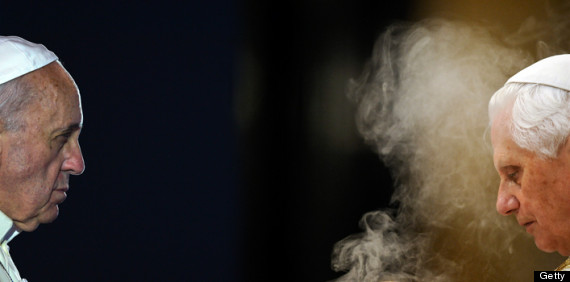 Pope Francis has almost surely been secretly rooting for Argentina, despite his pledge to keep his prayers neutral.
But Germany's unbelievable 7-1 rout of Brazil during yesterday's semi-final could make for an awkward final match for the Vatican's holiest football fans.
When Francis first met Benedict XVI in person after his election, he declared, "we are brothers," but family feuds have started over less.
Francis earlier joked of a "war" between him and his protectors, The Swiss Guards, during the Argentina-Switzerland match. But could we now see a holy war between two Popes?
No word from the Vatican as of press time, but fans are already speculating. The jury's out on Jesus, however.

@NotoriousCLH

Christinho
Looking forward to the most exciting pope vs. pope World Cup final since Italy v. France 1378
@eddie_toner

Eddie Toner
So its Pope Francis v Pope Benedict in the final. Talk about divine intervention👏
@hemantmehta

Hemant Mehta
Pope Bowl will commence on Sunday. Sounds about right.
@HecklerForever

Professional Heckler
Battle of the Popes in the finals. Beware Germany. Your Pope quit before it was over.
#WorldCup
⚽️
#GERvsARG
Well it's official... This is SOOO happening in #Rome on Sunday! #B16 #PopeFrancis #WorldCup2014 #PopeVsPope pic.twitter.com/BrFRq0zGVJ

— The Jesuit Post (@TheJesuitPost) July 9, 2014