Blackberry Recipes That Remind You Why Summer Is The Sweetest Season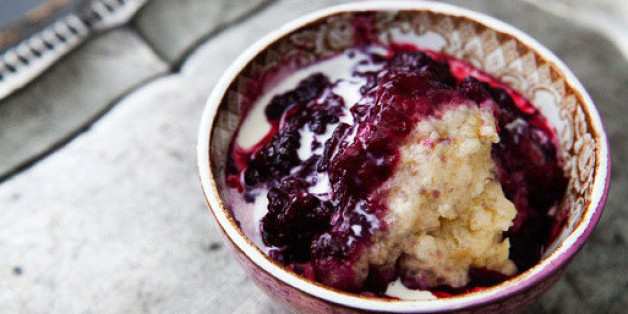 Simply Recipes
A single blackberry, when ripe to perfection, has so much flavor: it's sweet like jam and just melts in your mouth. But not all blackberries are created equal -- some can be pretty tart. (Blackberries directly from the farmer's market will usually be sweeter than the supermarket kind.) If you find yourself stuck with sour blackberries, we suggest you sweeten them by making a dessert. Blackberries also taste great in savory recipes, especially if there's cheese involved.
These summer berries are at their peak between June and September, depending on where you are in the country, so right about now is the time to reacquaint yourself with this special fruit. We have a number of blackberry recipes that will make any and all blackberries shine -- like cobblers, jams and so much more. Some even combine the berries with other fruit, like our plum-blackberry sorbet, for some amazing results.
Here are 47 blackberry recipes that will remind you why you love this beautiful berry, and why summer really is the sweetest season.
This Gal Cooks

2

Blackberry Chèvre Salad

Annie's Eats

3

Fontina + Blackberry Basil Smash Grilled Cheese Sandwiches

How Sweet It Is

Annie's Eats

5

Sweet Potato Quinoa Cakes

How Sweet It Is

Annie's Eats

A Beautiful Mess

8

Blackberry Frozen Yogurt

Simply Recipes

Simply Recipes

10

Blackberry Mint Juleps

The Chic Table

11

Vanilla Bread Pudding With Blackberries

A Spicy Perspective

12

Blackberry Panna Cotta

A Spicy Perspective

13

Blackberry Bourbon Shortcakes with Whiskey Cream

A Spicy Perspective

14

Blackberry Wine & Chocolate-Olive Oil Cupcakes

The Domestic Rebel

15

Blackberry & Creamy Goat Cheese Sticky Buns

Adventures In Cooking

16

Blackberry And Summer Apple Pie

John Kernick

James Ransom/Food52

Frances Janisch

Food52

Romas Foord

Simply Recipes

22

Summer Blackberry Custards

Martin Morrell/Food & Wine

23

Yogurt Ice Pops With Berries

Ed Anderson and Paul O'Hanlon

24

Blackberry Nectarine Tart

The Clever Carrot

Crepesofwrath

26

Minty Blackberry & Zucchini Muffins

Food52

27

Summer Berries With White Chocolate Sauce

Ray Kachatorian

28

Blackberry-Lemon Marmalade

Rick McKee

the parsley thief

30

Multigrain Pancakes with Blackberry and Rhubarb Compote

Dinner Was Delicious

31

Earl Grey Ice Cream With Blackberry Swirl

Adam Cohen

32

Cinnamon French Toast With Red Berry Sauce

Ray Kachatorian

33

Blackberry Apricot Cobbler

fiveandspice

34

Plum-Blackberry Sorbet

Sara Remington

New Media Publishing

36

Baked Brie with Blackberry Compote

Brown Eyed Baker

37

Blackberry Oatmeal Crumble Bars

Mom On Time Out

38

Blackberry Crisp in a Jar

This Gal Cooks

39

Grilled Chicken with Blackberry Sweet and Sour Sauce

Steamy Kitchen

40

Cornmeal Waffles with Blackberry Compote

Two Peas And Their Pod

41

Blackberry Chocolate Cake

Verses From My Kitchen

42

Oregon Bounty Berry Buckle

Food52

43

Blackberry, Rosemary, and Yogurt Ice Pops

Amanda Hesser

Simply Recipes

45

Frozen Blackberry, Honey, & Goat Cheesecake

Adventures In Cooking

46

Grilled Chicken, Peach, Blackberry + Basil Pizza

How Sweet It Is

47

Blackberry Chia Seed Jam

Two Peas And Their Pod
Want to read more from HuffPost Taste? Follow us on Twitter, Facebook, Pinterest and Tumblr.