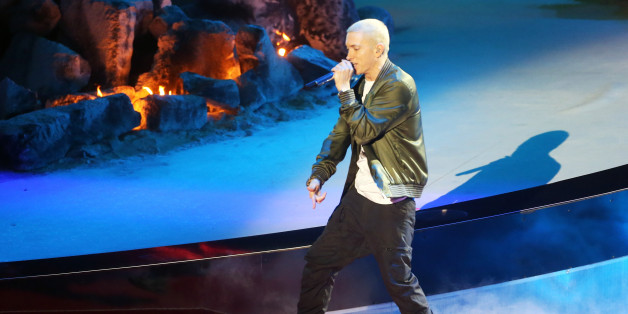 Frederick M. Brown via Getty Images
Eminem gave fans a sweet, sweet surprise during his show at London's Wembley Stadium. The rapper brought Dr. Dre on stage for a rare live performance on Friday, July 11.
This was the first of Eminem's two huge London shows, opened by Danny Brown and Odd Future. After Eminem performed "Dead Wrong," a 1999 collaboration with Notorious B.I.G., Dr. Dre showed up on stage to perform "Still Dre," "Nuthin' But A G Thang" and "Forgot About Dre." NME reports that he left the stage immediately after the medley.
Eminem also performed his biggest hits, "My Name Is," "The Real Slim Shady," "Not Afraid" and "Without Me," and ended with "Lose Yourself." See the fan-shot footage of Dr. Dre's surprise appearance below:
FOLLOW HUFFPOST