Here's a problem we love to have: too many stunning beaches to choose from.
That's the constant conundrum with the Great Lakes, where you could spend an entire summer adventuring, swimming and sunning at a new spot each day and still not see most of the shoreline.
Though there are many reasons the Great Lakes are a truly incredible (and under appreciated) destination, we definitely put the beaches at the top of the list. And apparently so does Pure Michigan, the state's hub for tourism and an arm of the Michigan Economic Development Corp., which held a photo contest to celebrate state beaches.
Beach enthusiasts submitted more than 1,900 photos of their favorite spots to the Pure Michigan contest, with winners that captured the best of what Michigan beaches have to offer. Whether you're just looking for fishing, the clearest water or a good place to relax with family, there is over 3,200 miles of shoreline in the state. It's hard to narrow it down, but these are some of the top beaches -- with stunning photos to prove it.
Best beach for sunsets: Grand Haven State Park Beach.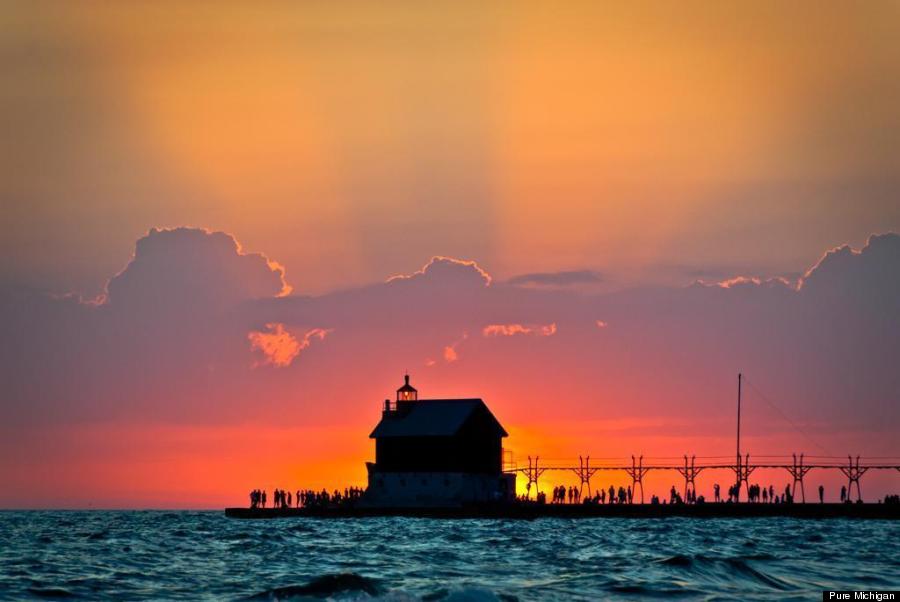 Photo by Bob Peskorse Jr., courtesy of Pure Michigan.
Bob Peskorse Jr. submitted a photo of the beach on Lake Michigan, where people line up to catch a view of the breathtaking sunsets. The state park has camping and is near the quaint town of Grand Haven, the pier and lighthouse.
Best beach for pets: Empire Beach.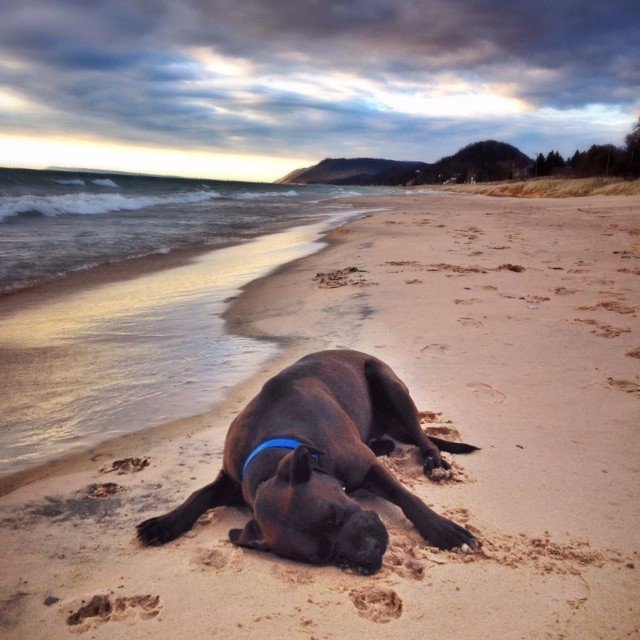 Photo by Sarah Hunt, courtesy of Pure Michigan.
As the gateway to the sand dunes, Empire Beach offers stunning views for humans and their four-legged companions. The small town delights visitors (especially the annual asparagus festival). If you somehow tire of the beach, you can always head to nearby Elberta to check out the eclectic animal-themed art at Trick Dog Gallery and Cafe.
Best beach for long walks: Sleeping Bear Dune National Lakeshore.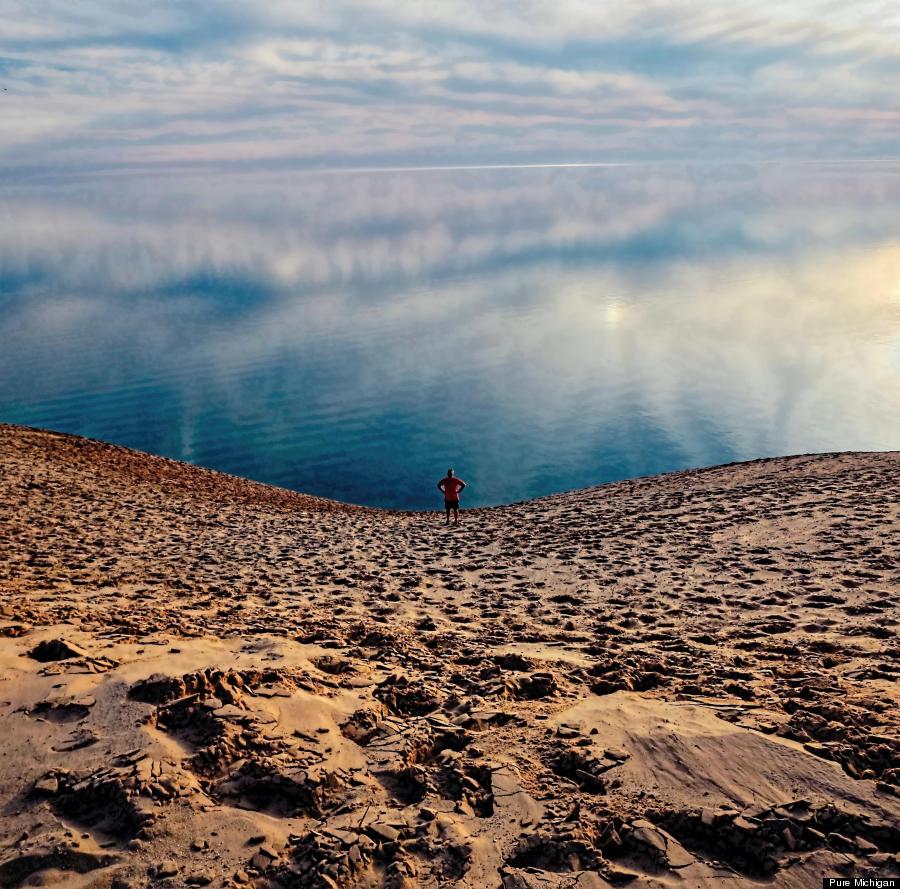 Photo by Sarah Hunt, courtesy of Pure Michigan.
Once voted the "most beautiful place in America," Sleeping Bear stretches along 65 miles of shoreline. Steve Keighly's photo shows part of the panoramic vistas you'll find at the park, with dunes 400 feet above Lake Michigan. There are numerous hiking paths in the park, but kids and the young at heart will be content running up the dunes and rolling back down again and again.
Best state park beach: Orchard Beach State Park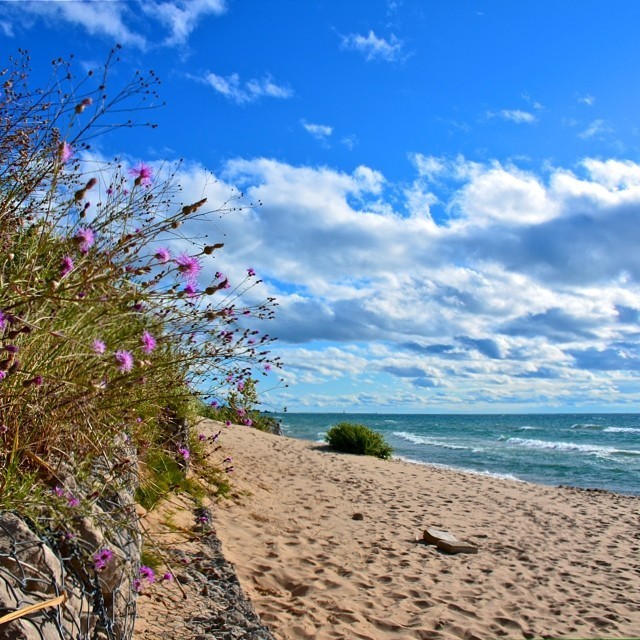 Photo by Deb Neerken, courtesy of Pure Michigan.
Deb Neerken's photo of the Lake Michigan beach in Manistee was selected for showing the best of what Michigan's state parks has to offer. Orchard Beach has a campground, and the small size keeps it quiet and perfect for a lovely getaway.
Best beach for watching fireworks: St. Ignace.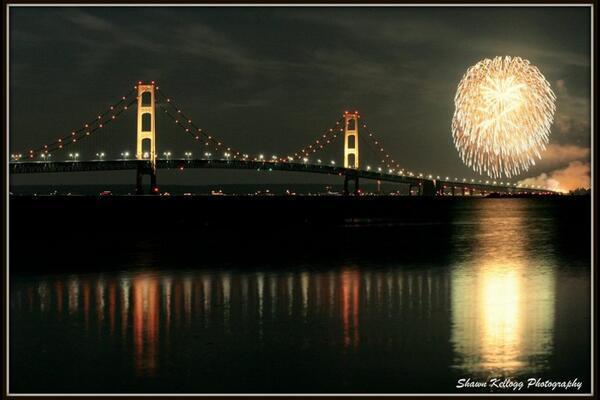 Photo by Shawn Kellogg, courtesy of Pure Michigan.
Across the state, St. Ignace is the gateway between the Upper and Lower Peninsulas, and between Lakes Huron and Michigan. The view of the Mackinac Bridge (one of the longest suspension bridges in the world), captured here by Shawn Kellogg, makes it one of the best spots for watching fireworks.
Best beach for flying kites: Manistique.
Photo by Carrie Shea, courtesy of Pure Michigan.
Carrie Shea snapped a shot of some great kite flying on the Lake Michigan beach in Manistique. In the Upper Peninsula, the small harbor town is a central destination for visitors looking to explore historic Fayette, the 19th century ghost town, Kitch-iti-kipi, a gorgeous natural spring and Seul Choix Point Lighthouse, a supposedly haunted light -- or perfect for those who just want to lounge on the windy beach.
Best beach for fishing: Copper Harbor.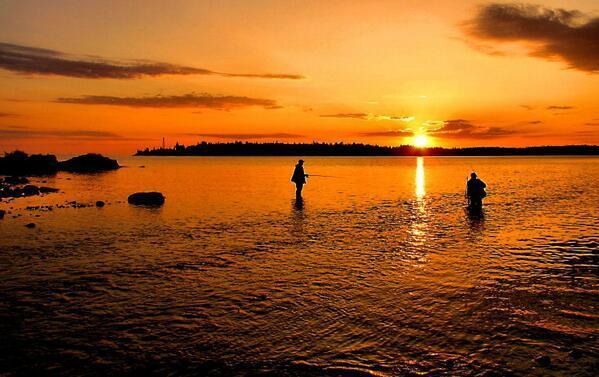 Photo by Matthew Winn, courtesy of Pure Michigan.
Far, far north, Matthew Winn captured a sun-drenched photo of people fishing in the shallow waters of Copper Harbor. Lake Superior's water isn't the warmest, but it can't be beat for awe-inspiring nature.
Best beach for clear waters: Rogers City.
Photo by Rachel Welch, courtesy of Pure Michigan.
The Rogers City harbor on Lake Huron also appeals to fishermen, as well as boaters. But anyone can enjoy the crystal-clear water, as captured by Rachel Welsh.
Best beach to spend time with friends and family: Tiscornia Beach.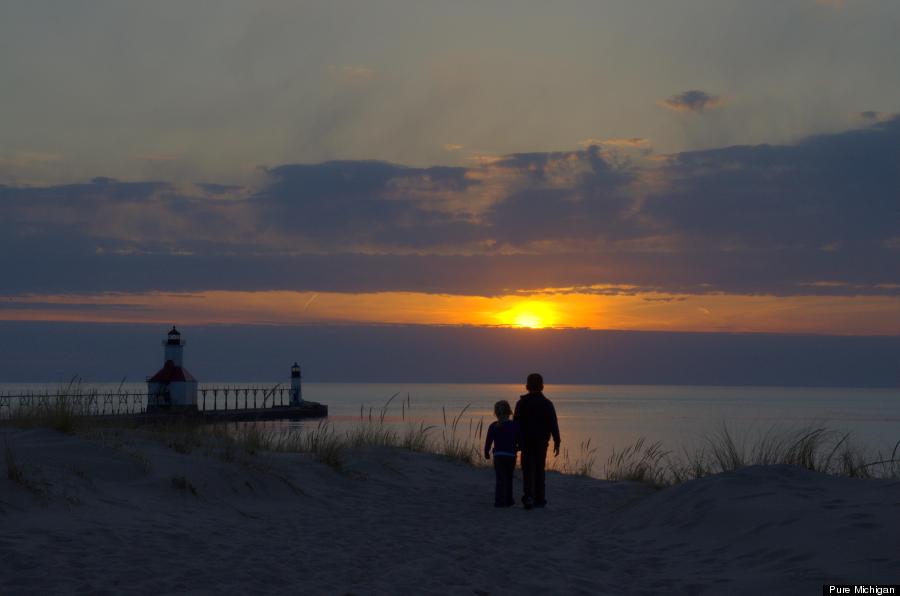 Photo by Jason McIver, courtesy of Pure Michigan.
Most beaches are better enjoyed with friends and family, but Jason McIver's shot of Tiscornia Beach in St. Joseph caught Pure Michigan's eye as the best spot to spend time with loved ones. On Lake Michigan and a reasonable drive from Chicago, St. Joseph consistently has some of the most gorgeous views, as well as plenty to do.
Best all-around beach and photo: Silver Lake Sand Dunes.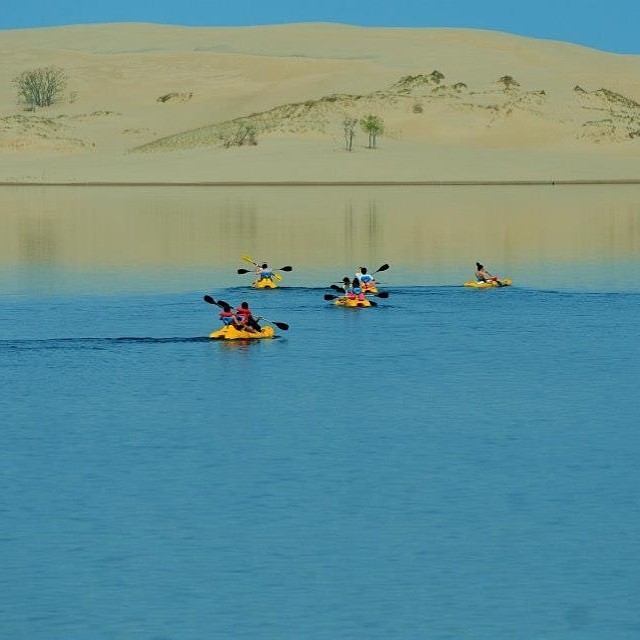 Photo by Gina Ferwerda, courtesy of Pure Michigan.
Gina Ferwerda's photo at Silver Lake Sand Dunes on Lake Michigan was the first-place winner in the Pure Michigan contest. The state park is a destination for boating, golfing, hiking, four-wheeling and more. But the soaring dunes are what really make Silver Lake top-notch.
Pure Michigan's contest displayed some of Michigan's most cherished beaches -- but from Warren Dunes to Charlevoix, Pictured Rocks National Lakeshore to Wilderness State Park, there's many, many more. See more beautiful shots of the lakes below, and happy vacationing!
The Incredible Great Lakes
Ana Simovska:Grand Island in Lake Superior- Summer 2012

The Green Point Dunes Nature Preserve in Michigan, south of Elberta.

A thirty-second night exposure reveals streaking clouds and stars in the sky in Nordhouse Dunes Wilderness Area, Lake Michigan, Michigan. American photographer Ian Plant experiments with light sources and long exposures to turn remote nocturnal landscapes into psychedelic dreamlands. From swirling desert stars to bright exploding steam from geysers, Ian conjures up magical vistas and surreal scenes from midnight treks across the Americas. In one striking image, sleep-deprived, Ian, 39, from Virginia, USA, transforms the stem of a common desert plant into the red tentacles of an alien creature reaching up into space. While many photographers choose to take pictures of what is in front of them, Ian says he has other ideas about his medium. 'I use the night time like a blank canvass to project my ideas onto,' he explained. 'Instead of being at the mercy of the scene that's in front of me I can create the image from my imagination.' (Photo by Ian Plant / Barcroft Media / Getty Images)

The sun rises over a frozen Lake Erie.

Winter view of Point Betsie Lighthouse on Lake Michigan in Frankfort, Mich.

Panoramic view of city of Chicago skyline at dusk, reflected on Lake Michigan.

ErinJohnson:Apostle Islands National Lakeshore Sea Caves - on every kayakers bucket list.

A sunset at Big Sable Point Lighthouse. This lighthouse is located in Ludington, Mich. just north of the state park.

A bridge to Paradise in Michigan's Upper Peninsula.

Gneiss shoals can be seen underwater surrounding Shaw Island, just outside Isle Royale National Park, Lake Superior, Michigan.

Scenic overlook of Lake Michigan at Sleeping Bear Dunes National Park, South Manitou Island in the distance.

A swimmer dives in to lake Michigan to cool off July 31, 2006 in Chicago, Illinois. Temperatures in the city reached 99 degrees Fahrenheit, tying the record high for the day. (Photo by Scott Olson/Getty Images)

Sunset on the shore of Lake Michigan, Warren Dunes State Park, Mich.

Lake Michigan, from New Buffalo, Mich., 2003.

Waves crashing on pier and lighthouse on Lake Michigan at sunset.

Miner's Beach at the Pictured Rocks on Lake Superior.

Sunset at Illinois Beach State Park, Il.

View of the cliffs on Lake Superior from Lakeshore Trail; Pictured Rocks National Lakeshore.

View of Michigan Island in Wisconsin's Apostle Islands in Lake Superior.

View from the Thousand Islands Bridge of treetops (foreground left) below on Constance Island and Georgina Island (back right), two of about 20 islands and 90 islets that are part of the St. Lawrence Islands National Park of Canada.

Floating maple leaf, Lake Superior.

Goldenrod wildflowers growing along the water's edge of Lake Ontario in the early Autumn season.

Cottage country in Ontario with metamorphic rock in the foreground.

Tree with red foliage on the shores of Georgian Bay, Killbear Provincial Park, Ontario, Canada.

Fog delay below the MacArthur Lock.

Rainbow over Lake Superior.

Scenic vista, Presque Isle State Park, along Lake Erie in Pennsylvania.

Lake Superior Provincial Park, Wawa, Ontario.

Sunset falls on the cliffs of the Niagara Escarpment, over Barrow Bay, a part of Georgian Bay, Bruce Peninsula, Ontario, Canada.

Sunset on Lake Superior shore, Mich.

Miner's Castle Overlook on Lake Superior near Munising, Mich. Pictured Rocks National Lakeshore is a U.S. National Lakeshore on the shore of Lake Superior in the Upper Peninsula of Michigan.

Glenn Haven on the shore of Lake Michigan.

Lake Ontario in fog, Toronto.

The Grand Hotel on Mackinac Island in Lake Huron.

A weathered barn on the shoreline of Lake Ontario.

Evening light on fall colour hardwoods near Agawa Bay, with Montreal Island. Lake Superior Provincial Park, Ontario, Canada.

SAULT STE. MARIE, Mich. — The U.S. Coast Guard Cutter Mackinaw appears to float in a cloud as it approaches the Poe Lock in low lying fog in Sault Ste. Marie. (U.S. Army Corps of Engineers photo by Michelle Hill)

Girl running with Shih-Bi through waters of Lake Huron at Singing Sands Beach, Bruce Peninsula National Park, south of Tobermory, Ontario.

Michigan, Isle Royale National Park, Sunrise from the east end of Mott Island, looking toward Tookers Island.

Beautiful McCargoe Cove in Isle Royale National Park, Lake Superior.

Michigan, Isle Royale National Park. The park is a wildflower lover's paradise with hundreds of native plants blooming every year.

A moose is swimming to the left of the island at Isle Royale.

Aerial view of Chicago river mouth and Lake Michigan.

A sunset at Esch Road beach on the Sleeping Bear Dunes National Lakeshore.

Ice Boulders stranded in the still water of Lake Michigan.

Kayaker expore the sea caves of Devils Island in the Apostle Islands National Lakeshore on Lake Superior, Wisconsin.

Lake Ontario from Chimney Bluffs State Park, NY

Gregory Mann:Mackinac Bridge at sunset from a Big Cat returning to Mackinaw City from Mackinac Island.

lynnannetterogers:Sleeping Bear Dunes

lynnannetterogers:Sunset on Lake Michigan - Ludington Beach

ErinJohnson:Gorgeous colors among the Apostle Islands National Lakeshore.

filmboi:The sun setting on Lake Superior's Chequamegon Bay in Ashland, Wisconsin on a warm summers night.

The many moods of Lake Huron provide an ever-changing landscape

Tom999:Lighthouse on Lake Michigan, Frankfort, Michigan.

Tom999:Iron Ore Dock on Lake Superior in Marquette, Michigan. Built in the late 1800s, it was used to load iron ore from railroad cars to freighter ships, which then transported the ore to steel mills. It is no longer in use.

Wisconsin State Highway 13 follows the shoreline of Lake Superior on the Bayfield Peninsula, Wisconsin

IceBlock:A late October morning at the Lone Rock campsite, Porcupines Mountains Wilderness State Park, Silver City, Michigan. This part of the rugged and remote Lake Superior lakeshore is only accessible by backpacking, leaving pristine wilderness along the greatest of Great Lakes.

IceBlock:Lafayette Landing, Porcupines Mountains Wilderness State Park, Silver City, Michigan.

Kathryn Houser:When the winds blow just so, the sand forms strange and wonderful shapes. Near Pentwater, Michigan, on the eastern edge of Lake Michigan. October, 2012.

David S Roberts:Lighthouse at Saugeen River mouth Lake Huron, Southampton, Ontario

Marthawitt:Chicago lakefront at dawn

Mackinaw Island view

dog and sunset

This gorgeous sunset was captured last Friday, 8.30.13 on Lake Michigan. The Point Betsie Lighthouse is located on M22 just north of Frankfort, MI.

Nick Danz:Taken on our trek along the Lakeshore trail!

Pam Mulder Plamann:Grand Haven Pier, amid the dune grass. Lake Michigan, Grand Haven, Michigan

Pam Mulder Plamann:A foggy day at Lake Michigan, Grand Haven

Pam Mulder Plamann:Canoeing at sunset. Lake Superior, Ontonagon, Michigan

Pam Mulder Plamann:Large driftwood along the shore of Lake Superior, Ontonagon, Michigan


CORRECTION: An earlier version of this story indicated Rogers City is on Lake Michigan. It is on Lake Huron.