16 Of The Most Powerful Images To Come Out Of The Israel And Gaza Conflict
Since Israel began its offensive against militants in the Gaza Strip last week, its military says it has launched more than 1,300 airstrikes. At least 170 Palestinians have been killed and hundreds have been injured. Meanwhile, Palestinians have fired almost 1,000 rockets at Israel, but there have been no reported deaths, due in large part to Israel's anti-missile defense system called the Iron Dome. Militants in the Gaza Strip also launched a drone on Monday, a new strategy that had not yet been used in the conflict. The Islamist group Hamas, which governs Gaza, said on its website that the drone was one of the "surprises" it had been planning.
Take a look below at some of the most powerful images stemming from the violence.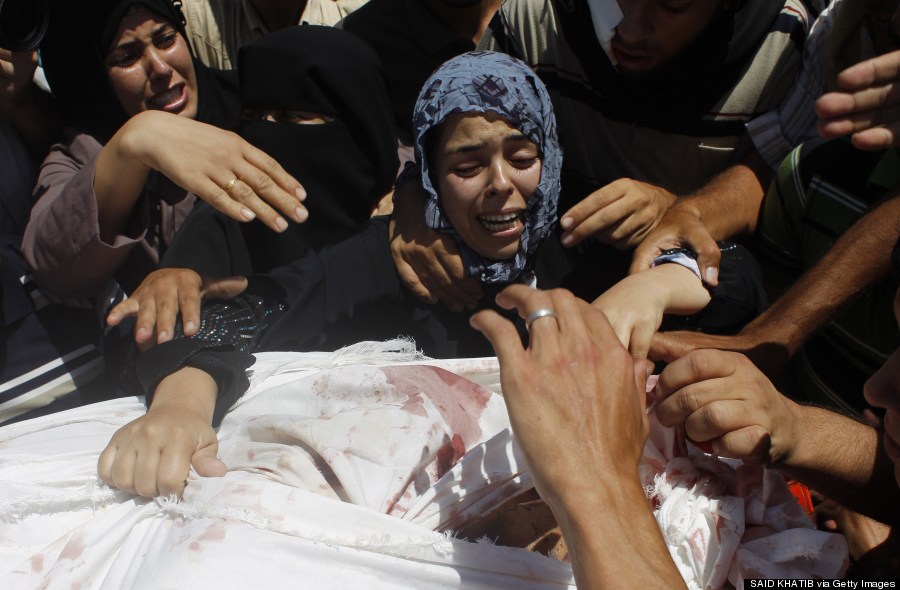 Relatives and friends mourn over the body of Musa Moamer, a 60-year-old Palestinian man killed in an Israeli air strike along with three members of his family, during their funeral in the city of Rafah in the southern Gaza Strip on July 14, 2014. (SAID KHATIB/AFP/Getty Images)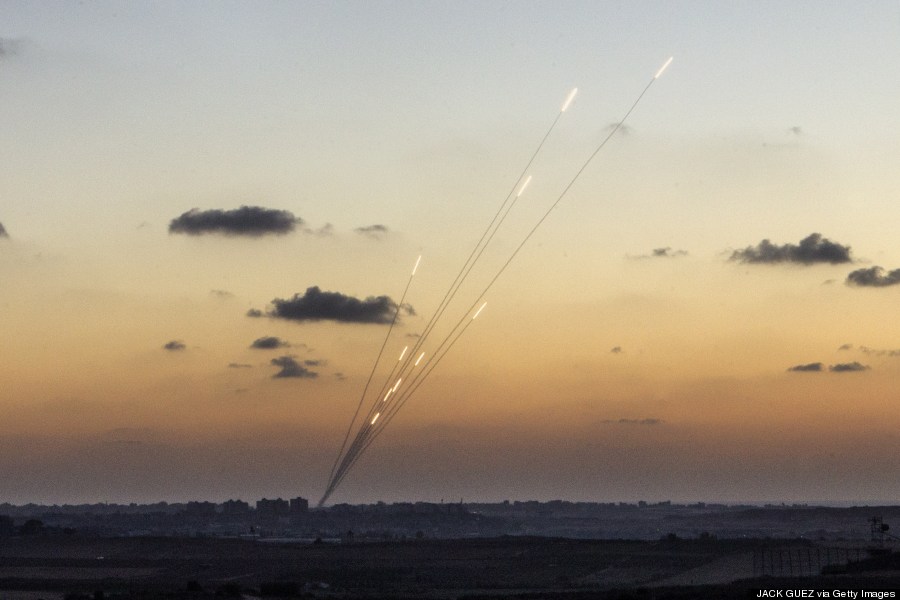 A picture taken from the southern Israeli city of Sderot shows rockets being fired from the Gaza Strip into Israel, on July 13, 2014. (JACK GUEZ/AFP/Getty Images)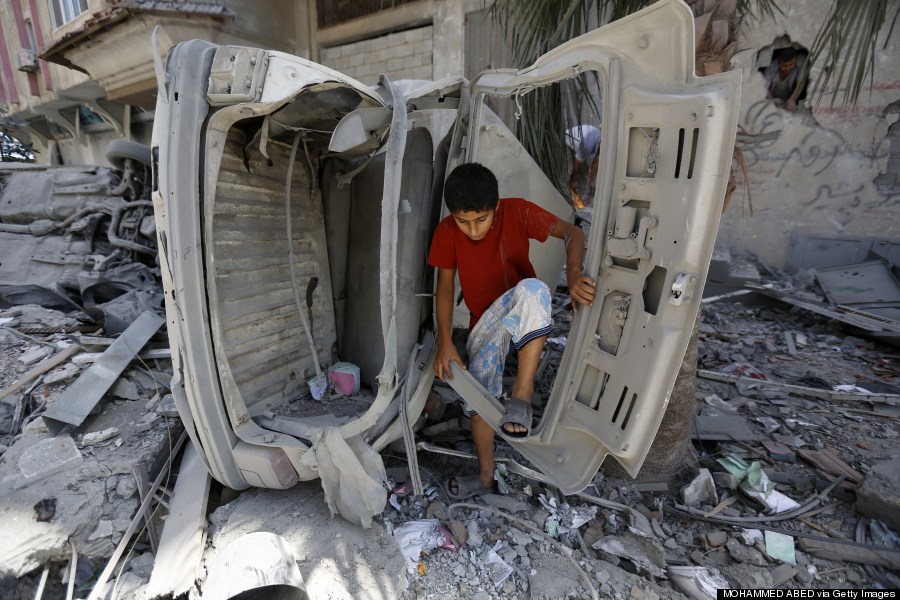 A Palestinian boy inspects the remains of a car hit by an Israeli air strike in Gaza City on July 14, 2014. (MOHAMMED ABED/AFP/Getty Images)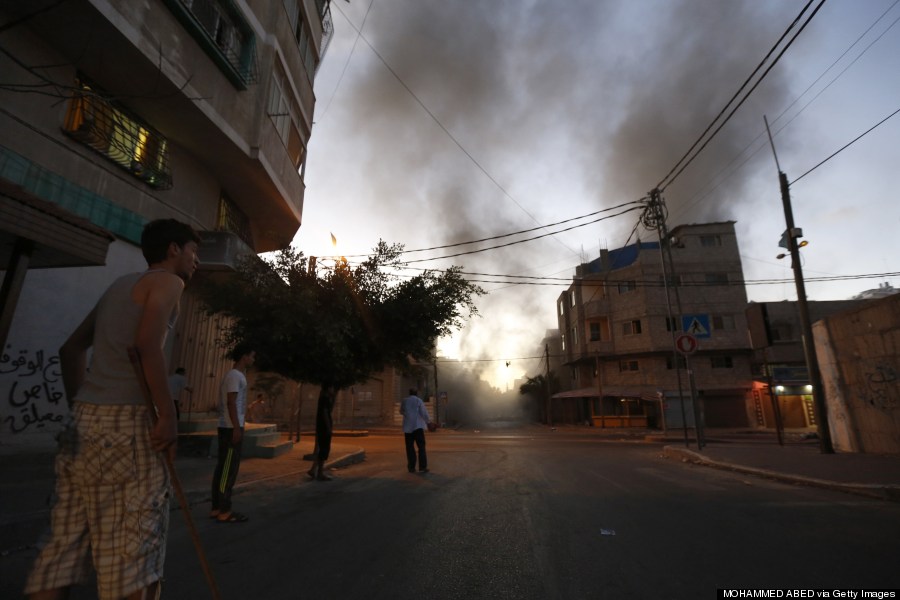 Palestinians stand looking at smoke billowing from a nearby building hit by an Israeli air strike in Gaza City on July 13, 2014. (MOHAMMED ABED/AFP/Getty Images)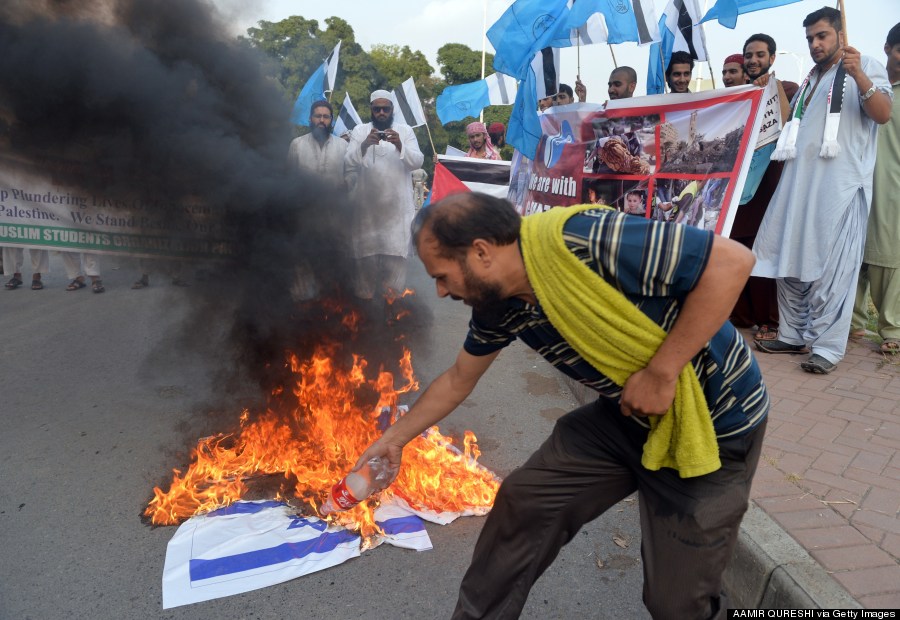 An activist of the Muslim Students Organization Pakistan torches Israeli and U.S. flags during a demonstration in Islamabad against Israeli military operations in Gaza, on July 14, 2014. (AAMIR QURESHI/AFP/Getty Images)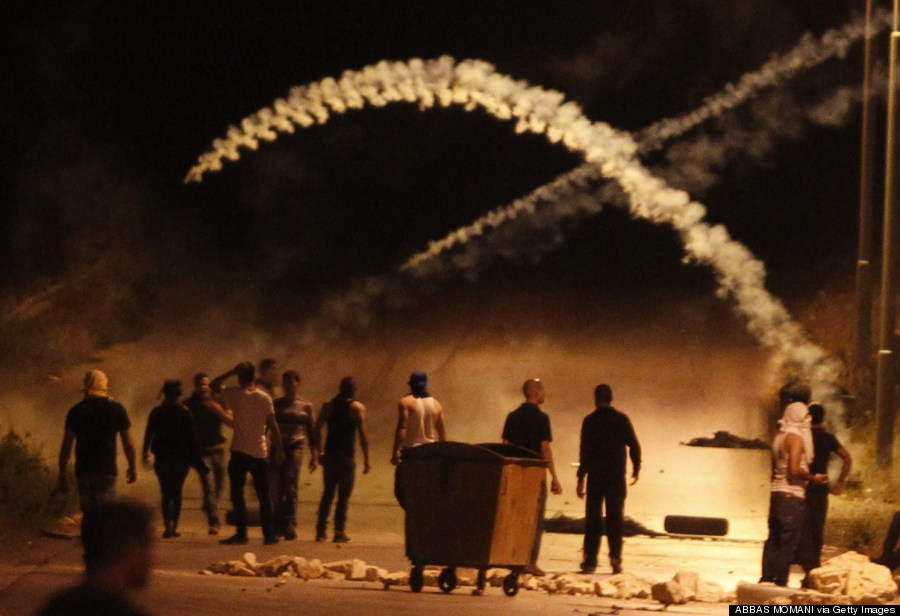 Palestinians clash with Israeli soldiers at the gates of the Beit El Jewish settlement in the Israel-occupied West Bank near Ramallah on July 9, 2014, as they protest against the bombardment of the Gaza Strip by the Israeli air force. (ABBAS MOMANI/AFP/Getty Images)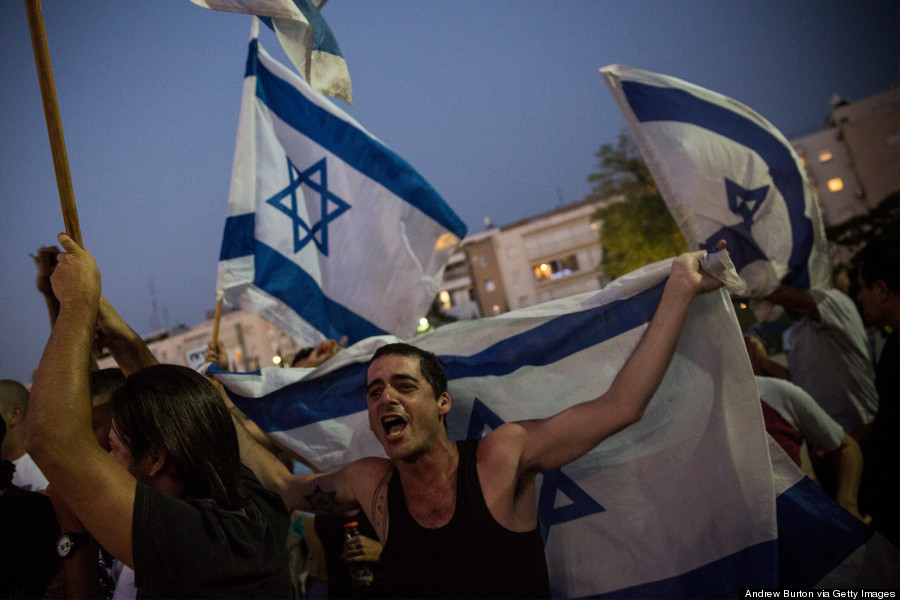 A right-wing supporter of Israel holds up an Israeli flag during a rally held by the left-wing calling for an end of the Israeli occupation of Palestine and for a ceasefire of the current Israeli-Palestinian conflict on July 12, 2014 in Tel Aviv, Israel. (Andrew Burton/Getty Images)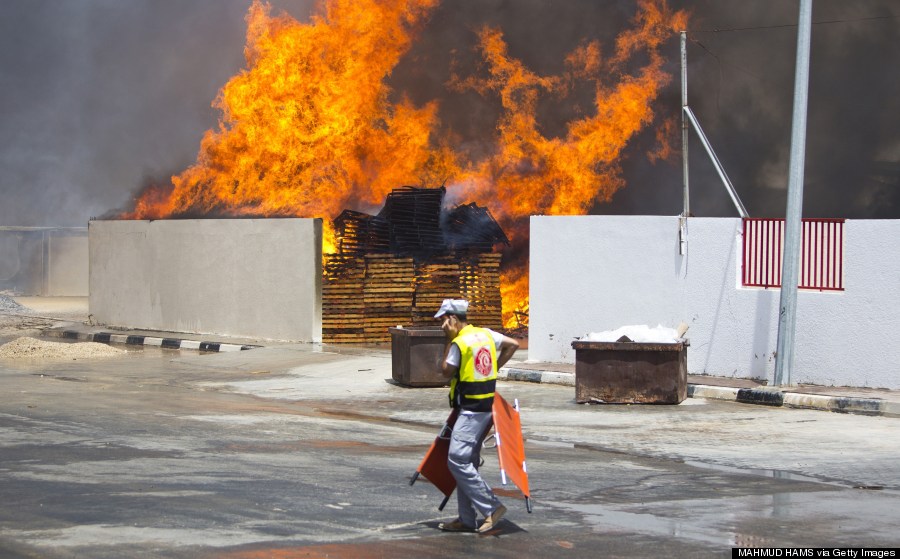 A Palestinian medic arrives at the site of a fire at a U.N. storehouse after an Israeli military strike in an area west of Gaza City on July 12, 2014. (MAHMUD HAMS/AFP/Getty Images)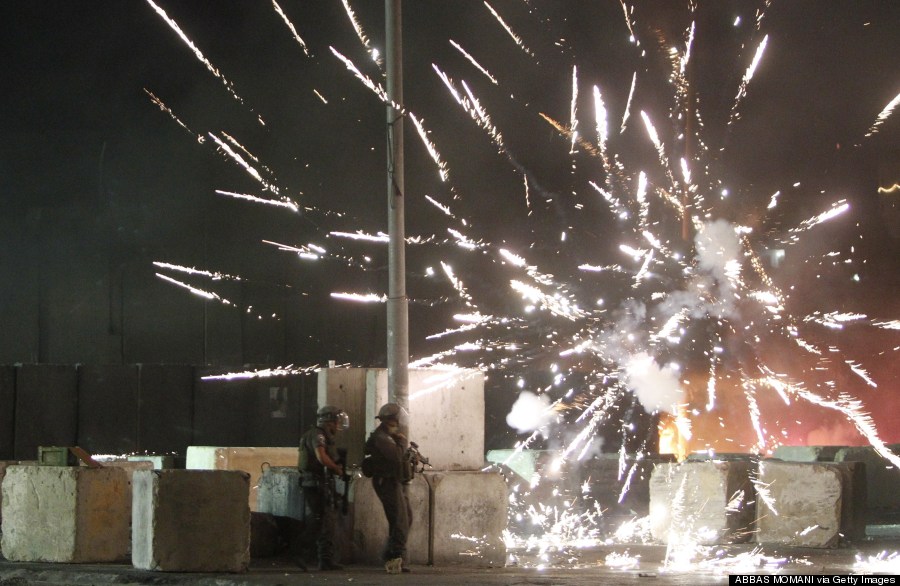 Israeli border guards take position as fireworks launched by Palestinian protesters lit the sky during clashes at the Qalandia checkpoint between Jerusalem and Ramallah, early on July 12, 2014. (ABBAS MOMANI/AFP/Getty Images)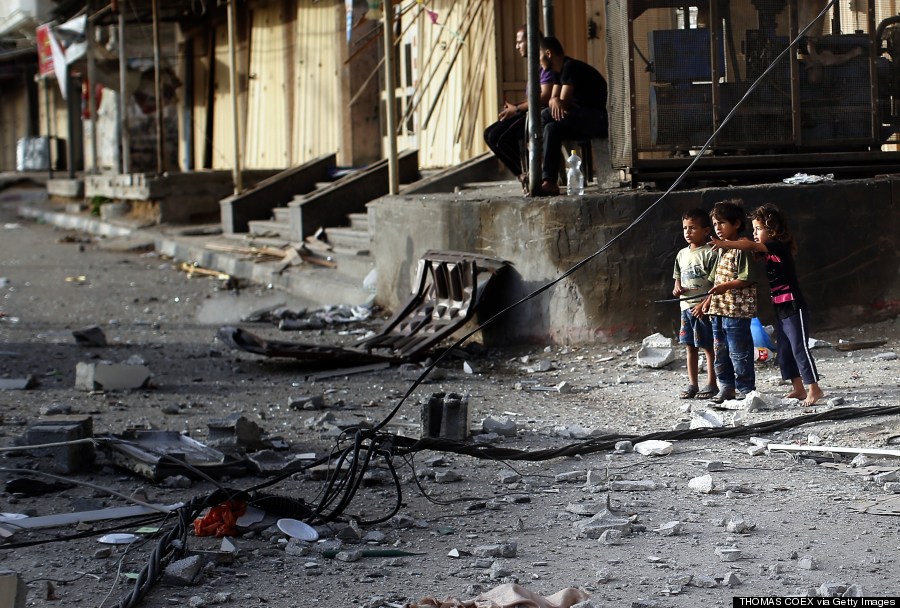 Palestinian children look at the rubble of a destroyed mosque following an Israeli military strike in the Nusseirat refugee camp in the central Gaza Strip, on July 12, 2014. (THOMAS COEX/AFP/Getty Images)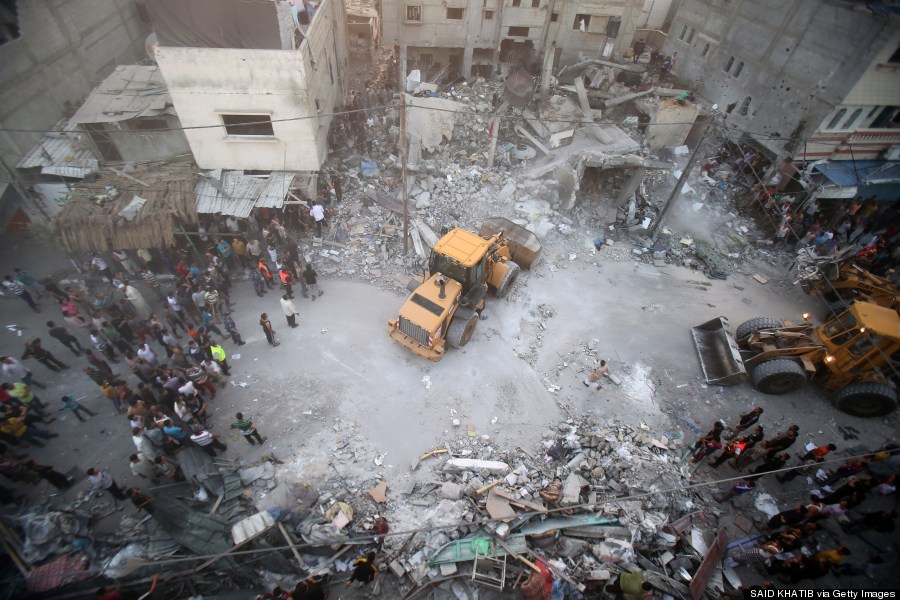 A digger removes the rubble of the Ghanam family home after it was targeted in an Israeli air raid on Rafah, in the southern Gaza strip, on July 11, 2014. (SAID KHATIB/AFP/Getty Images)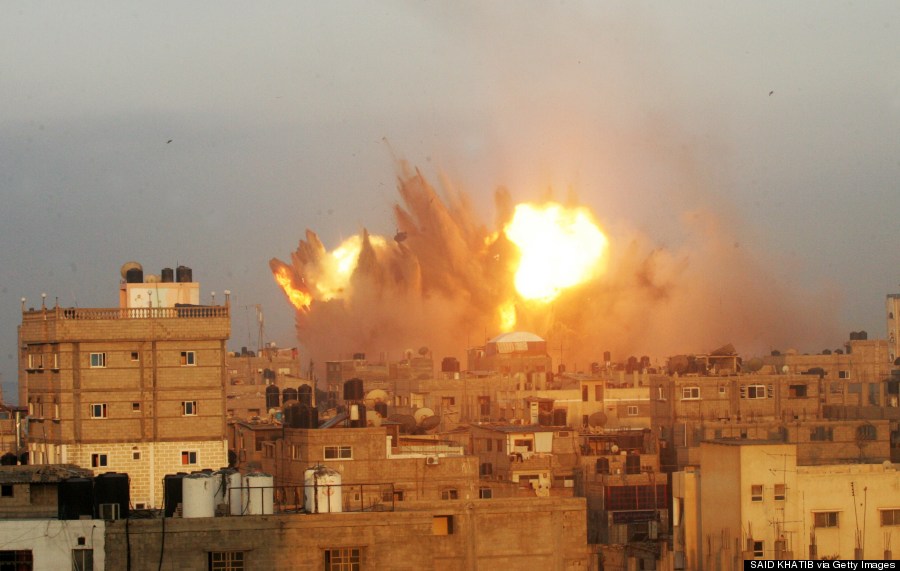 A ball of fire is seen following an early morning Israeli air strike on Rafah in the southern Gaza strip on July 11, 2014. (SAID KHATIB/AFP/Getty Images)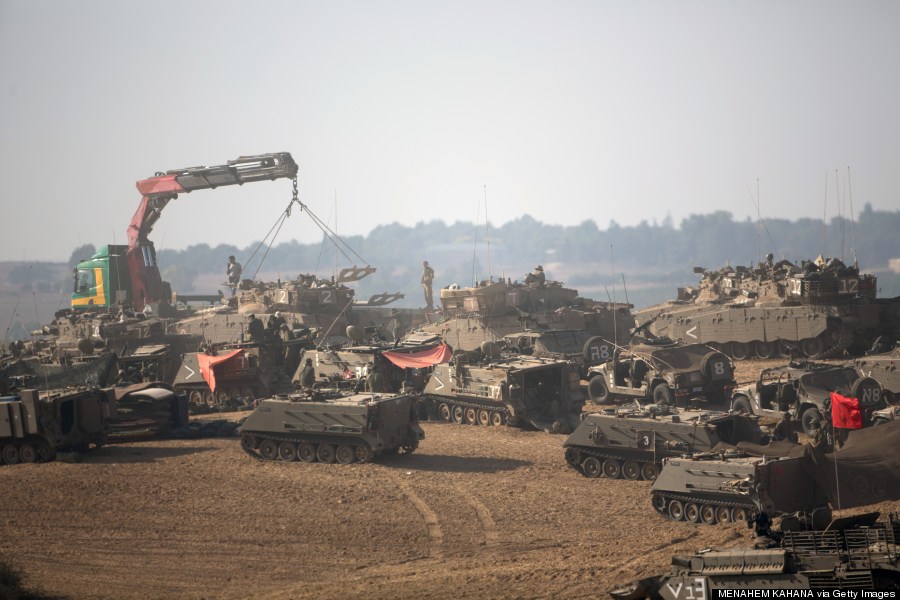 Israeli soldiers gather in an army deployment area near Israel's border with the Gaza Strip on July 10, 2014. (MENAHEM KAHANA/AFP/Getty Images)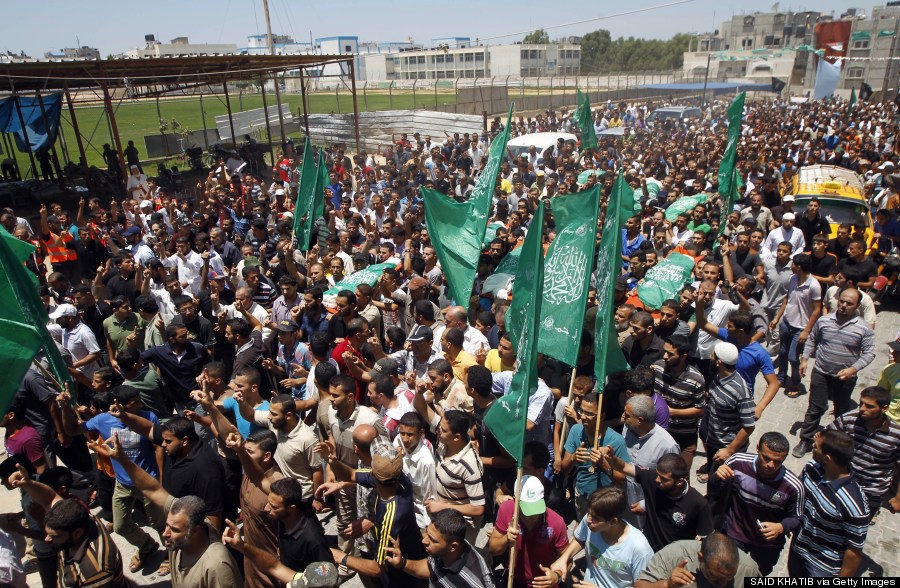 Relatives and friends of the al-Hajj family carry their bodies during a funeral in Khan Yunis, in the southern Gaza Strip, on July 10, 2014. (SAID KHATIB/AFP/Getty Images)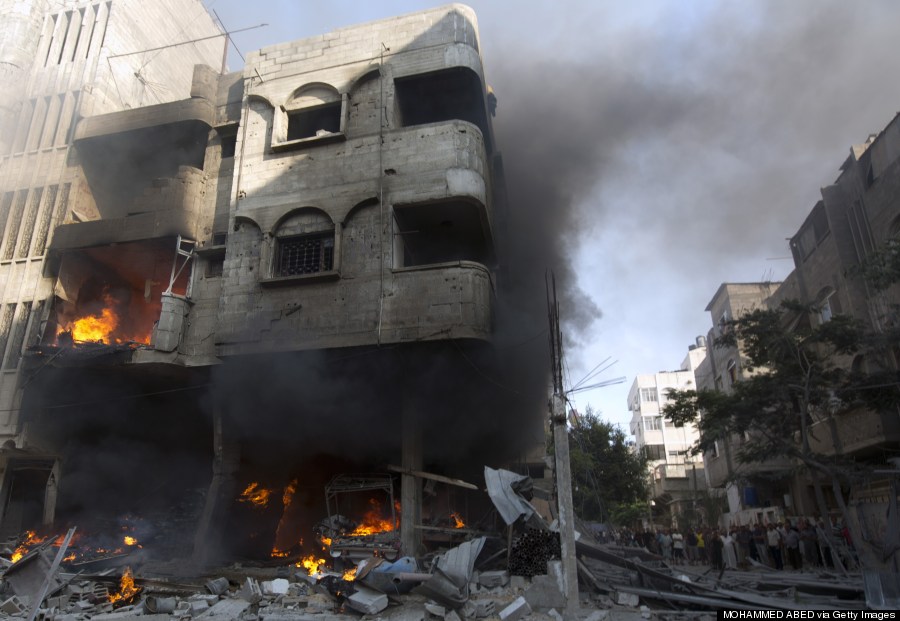 Flames engulf a building hit by an Israeli air strike in Gaza City on July 10, 2014. (MOHAMMED ABED/AFP/Getty Images)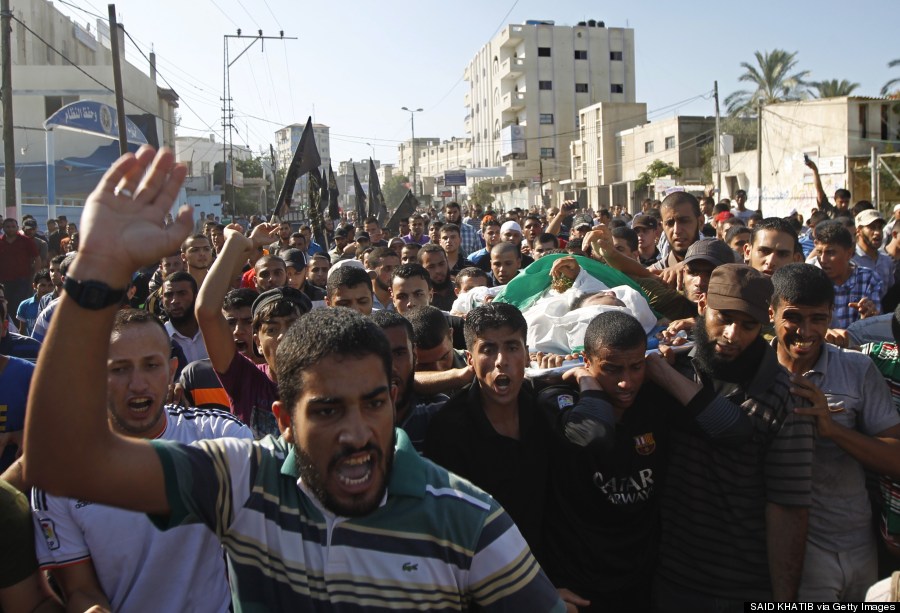 Mourners carry the body of a Hamas militant during his funeral in Rafah in the southern Gaza Strip July 7, 2014. (SAID KHATIB/AFP/Getty Images)