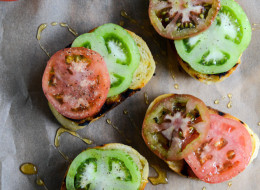 When it comes to summer produce -- zucchini, apricots and eggplant to name just a few -- we're pretty gratuitous with our adoration. We've waxed poetic about peaches and have loudly sung our praises for the little blueberry. We may have even claimed at one point that each of these fruits and vegetables were our all-time favorite; sometimes we just get carried away. But when we say it about the tomato, we mean it. This summer fruit (which you eat more like a vegetable) is where our heart truly belongs.
Red, purple, yellow or green, tomatoes are the reason summer meals are so beloved. Between the fresh tomato salad recipes and the cold gazpacho soup recipes, we don't think we'd could get through this sunny season without them. Here are the 29 best tomato recipes we could find -- to make sure you eat them all summer long.
Heirloom Tomato Frico Cups

Foodie Crush

Canned Tomato Salsa

Simply Recipes

Vanilla Cornmeal Crumb Cake With Candied Cherry Tomatoes

How Sweet It Is

Chilled Spicy Tomato Soup Shots

Bell'alimento

Easy Roasted Tomatoes

Foodie Crush

Grilled Sourdough With Buttery Herbs, Heirloom Tomatoes + A Honey Drizzle

How Sweet It Is

Heirloom Tomato Cornbread With Cheddar Cheese

Adventures in Cooking

Cherry Tomato Tart With Basil

Tina Rupp/Food&Wine

Oven-Roasted Preserved Tomatoes

Bell'alimento

Red Wine Marinated Flank Steak With Cherry Tomato Caprese Salsa

How Sweet It Is

Roasted Heirloom Tomatoes and Burrata Crostini

Bell'alimento

Pasta With Marinated Cherry Tomatoes

Foodie Crush

Bloody Mary Gazpacho

Foodie Crush

Parmesan Flatbread With Mozza & Golden Cherry Tomatoes

Verses from my Kitchen

Baked Polenta & Tomato Salad

A Beautiful Mess

Fresh Tomato Bloody Marys

John Kernick/Food&Wine

Tomato Tart With Tarragon Mustard

Manger

Avocado, Onion And Tomato Salad

Foodie Crush

Tomato, Corn And Cheese Galette With Fresh Basil

Alexandra Cooks

Tomato, Cucumber And Sweet Onion Salad With Cumin Salt

John Kernick/Food&Wine

Schiacciata With Cherry Tomatoes

Emiko

Tomato + Basil Salad

A Beautiful Mess

Crisp Feta, Tomato & Arugula Salad

Verses from my Kitchen

Brown Butter Tomatoes

James Ransom/Food52

Grilled Tomato-And-Scallion Salad

Cedric Angeles/Food&Wine

Grilled Halibut With Smashed Fingerlings And Tomato Butter

Tina Rupp/Food&Wine

Chilled Tomato Soup With Tarragon Crème Fraîche

Petrina Tinslay/Food&Wine

Tomato, Prosciutto and Gruyère Sandwiches

James Merrell/Food&Wine

Eggs Baked In Roasted Tomato Sauce

Quentin Bacon/Food&Wine
Want to read more from HuffPost Taste? Follow us on Twitter, Facebook, Pinterest and Tumblr.