Daily Meditation: Birdsong
We all need help maintaining our personal spiritual practice. We hope that these daily meditations, prayers and mindful awareness exercises can be part of bringing spirituality alive in your life.
Today's meditation features a peaceful song by American folk band Fleet Foxes. "Meadowlarks" is a naturalistic ballad for the birdsongs present throughout nature.
Meadowlarks by Fleet Foxes
Meadowlark, fly your way down
I hold a cornucopia and a golden crown
For you to wear upon your fleecy down
My meadowlark, sing to me
Hummingbird, just let me dive
Inside the broken ovals of your olive eyes
I do believe you gave it your best try
My hummingbird, sing to me
My hummingbird, sing to me
Don't believe a word that I haven't heard
Little children laughing at the boys and girls
The meadowlark singing to you each and every day
The arc light on the hillside and the market in the hay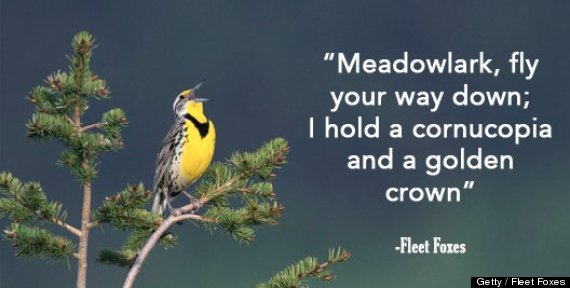 Related on HuffPost:
Meditation 101 Reading List