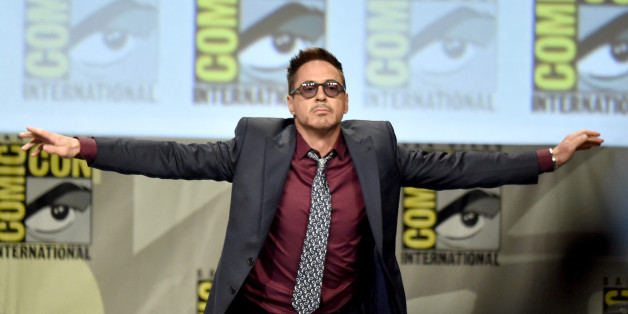 During Marvel's Comic-Con panel on Saturday night at the San Diego Convention Center, studio boss Kevin Feige and the cast of "Marvel's The Avengers: Age of Ultron" unveiled new footage from the forthcoming sequel. The follow-up to "Marvel's The Avengers," the 2012 blockbuster that earned more than $1.5 billion in worldwide grosses, is set for release on May 1, 2015. Joss Whedon, who was not present at Comic-Con because he recently underwent knee surgery, is the film's director. Needless to say, journalists and fans in attendance for the Marvel presentation were impressed with the footage. A compilation of their enthusiastic tweets are below.
Age of Ultron first look has Avengers sitting around drinking beers and trying to pick up Thor's hammer. Ultron wrecks the party. #SDCC
Oh wowww, we see Ultron fully formed and HE IS A NIGHTMARE. The roof just blew off Hall H. #MarvelSDCC
Wowwwwwww footage for Avengers 2 looks incredible. Hulk vs Iron Man, Hulkbuster, lots of dead bodies, broken shield. Holy shit! Boom.
'Avengers 2' trailer: lots of great stuff but Hulkbuster vs Hulk may take the cake.
Standing O for the "Age of Ultron" footage
One of the first times ever I have seen all of Hall H give a standing ovation to the footage, not the celebs, the footage we just saw. Wow.
Avengers footage was INCREDIBLE. Ultron is amazing. A little Andy Serkis. So good. #sdcc
ULTRON footage began with this awesome scene of all the Avengers trying to life Thor's hammer. Then Utron shows up #SDCC
Craziest moment during ULTRON footage is the end: Stark stands over a scene where all the Avengers look like they're dead. Wild stuff #SDCC
WOW...SHIT...that sizzle reel was fucking hot. Iron Man sees all the avengers dead bodies AWESOME!
At the end of ULTRON trailer, the Avengers are all dead (sans Tony) at the hands of Thanos. Scarlet Witch-aided flashfwd to AVENGERS 3?
If you thought 1st AVENGERS was unremarkably shot, you'll be happy with gorgeous, ambitious-looking AGE OF ULTRON footage.
"Marvel's The Avengers: Age of Ultron" reassembles Avengers superheroes Iron Man (Robert Downey Jr.), Thor (Chris Hemsworth), Captain America (Chris Evans), Hulk (Mark Ruffalo), Hawkeye (Jeremy Renner) and Black Widow (Scarlett Johansson), while also introducing Scarlet Witch (Elizabeth Olsen) and Quicksilver (Aaron Taylor-Johnson) to the mix. James Spader is set to play the villainous Ultron in the film.
SUBSCRIBE AND FOLLOW
Get top stories and blog posts emailed to me each day. Newsletters may offer personalized content or advertisements.
Learn more