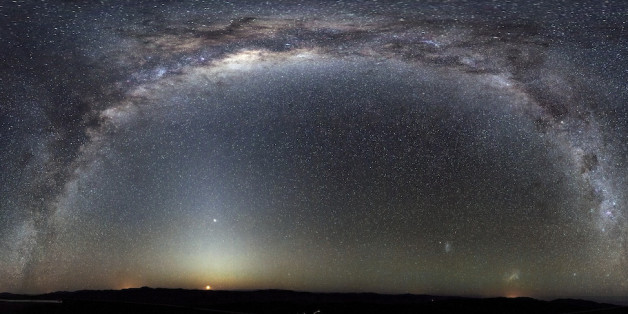 Surprise! Our home galaxy is no pipsqueak, but it isn't nearly as massive as scientists used to think.
Some previous studies indicated that the Milky Way is more massive than Andromeda, but the researchers said that these studies measured only the mass of the inner regions of our galaxy neighbor and not the outer regions.
For the new study, the researchers measured the speed, position, and motion of nearby smaller galaxies. Then they used those measurements to arrive at an estimate of the shape and mass of the Milky Way and Andromeda galaxies.
"By studying two massive galaxies that are close to each other and the galaxies that surround them, we can take what we know about gravity and pair that with what we know about expansion to get an accurate account of the mass contained in each galaxy," one of the researchers, Dr. Matthew Walker, an assistant professor of physics at Carnegie Mellon University in Pittsburgh, said in a written statement. "This is the first time we've been able to measure these two things simultaneously."
Dark matter makes up 90 percent of each galaxy's mass, according to the researchers. But, they say, Andromeda contains twice as much dark matter as the Milky Way.
"Most of the weight of these galaxies is present in the form of invisible dark matter," Dr. Yin-Zhe Ma, a postdoctoral fellow at the University of British Columbia in Canada, who was also involved in the study, said in a written statement. "We don't know much about dark matter so this discovery means we'll get a chance to study it from within our own galaxy."
Also on HuffPost:
Best Space Photos Ever Taken
SUBSCRIBE AND FOLLOW
Get top stories and blog posts emailed to me each day. Newsletters may offer personalized content or advertisements.
Learn more