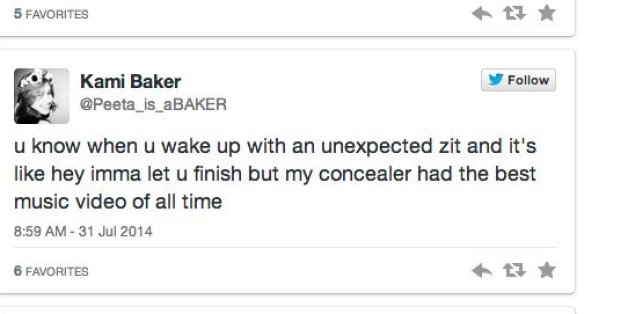 Every week, we round up the best 140-character quips and insights from our esteemed blogging team -- and other equally awesome teen tweeters. Scroll down to read the latest batch and share your own suggestions by following @HuffPostTeen!
This week's tweets have been compiled by Justina Sharp. Justina is a 16-year-old fashion and entertainment blogger who splits her time between real life and Netflix.
morning thoughts: I wonder what gordo from lizzie mcguire is up to. where is he at. hope he doing okay.
— Ben J. Pierce (@BenJPierce) August 1, 2014
If you're an astronaut and you don't end every relationship by saying "look, I just need some space" then you're wasting everyone's time.
— AJR (@AJRBrothers) July 31, 2014
About to go to work where I have no internet access so if @zachbraff is trying to get in contact with me, he'll have to send a text.
— Bizzy Emerson (@bizzyems) July 31, 2014
u know when u wake up with an unexpected zit and it's like hey imma let u finish but my concealer had the best music video of all time
— Kami Baker (@Peeta_is_aBAKER) July 31, 2014
Just tried to kill a bee in my kitchen. And by kill I mean screaming as loudly as a human can in an attempt to make its head explode.
— Neel Swamy (@neel_swamy) July 30, 2014
"being a teenager means being obsessed with pizza" - the most accurate seven year old I've ever met
— Justina Sharp (@bentpieceofwire) July 30, 2014
god bless the people who upload tv shows to the internet
— anthony spears (@LOHANTHONY) July 29, 2014
Some teacher just asked me if I was the new teacher I should have said yes
— Shelbs (@notshelbs) July 29, 2014
Anytime I can't think of a name for a character I just use a member of One Direction as a placeholder. You laugh, but JK Rowling did too
— Kiley Roache (@KileyRoache) July 28, 2014
harry styles is a real person, what a beautiful time to be alive
— georgia-may (@SheeranTings) July 28, 2014
*Uses Hogwarts sorting hat to pick sorority*
— Kiley Roache (@KileyRoache) July 27, 2014
I want a destination wedding and I want the destination to be Beyonce's house
— Celeste (@celesteyim) July 14, 2014
i am going insane in japan just bought an iphone case covered in a very realistic serving of bacon and eggs
— Lorde (@lordemusic) July 26, 2014
Girl at fluff gave me the leftover almond croissant crumbs for free, what should I give her in return? My hello kitty sticker book? My soul?
— Emma McLaughlin (@pizzaree) July 30, 2014
don't let a weak eyebrow game day stand between you and happiness. #namaste
— Abigail Breslin (@yoabbaabba) July 30, 2014
Follow HuffPost Teen on
Twitter |
Instagram |
Tumblr |
Pheed |