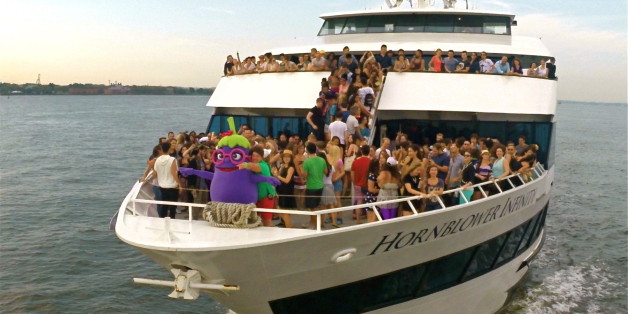 "Every morning you have a choice. To be an a**hole, or to be awesome."
An emcee boomed this nugget of wisdom (along with "Hydrate! With water!" and "You are beautiful") to hundreds of young New Yorkers, clad in various nautical-themed costumes and pumping their fists to electronic music.
It was 7:15 a.m. on a Wednesday, on a boat in the middle of the Hudson River, and in addition to the dance party, passengers enjoyed a guided meditation, acro-yoga and an array of healthy energy drinks and mysterious cacao beverages.
By now, the "morning dance party" trend has practically become ubiquitous among a certain demographic of late 20s/early 30s urban dwellers -- especially those in privileged startup circles. But this was the first time such event had taken place at sea.
It was hosted by a group called Daybreaker, which, along with fellow rise-and-shine rave company, Morning Gloryville, has been throwing this type of gathering in venues throughout New York City, London, Sydney and San Francisco for the past handful of months.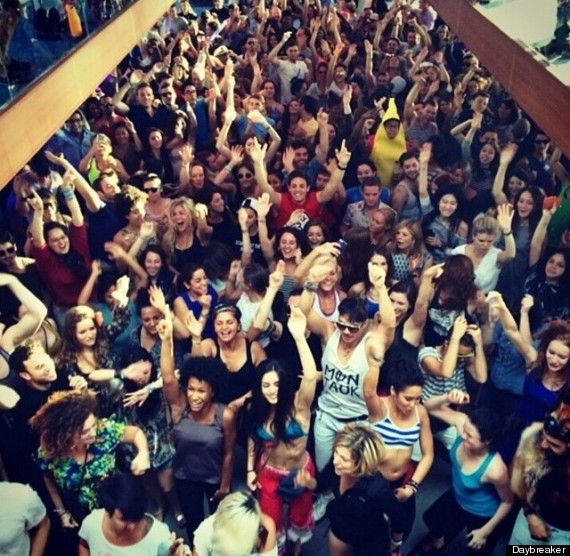 Their philosophy is less about partying and more about embracing the day in a joyful and open way: no alcohol or other imbibables are served, massage services are often on-hand and most attendees make their way to the office immediately after (but not before filling out a "set your intention" card). The ultimate goal? To create a community of "like-minded life enthusiasts" that start their day together, as Thrillist aptly described the festivities this past spring.
The Huffington Post broke our strict no-morning-person policy to see what all the hype was about. And despite a few hokey moments, like a spoken-word poem about embracing the present, we were ultimately quite pleased we dragged ourselves out of bed to make merry with happy strangers and costumed vegetables.
Will this be a weekly occurrence for us? Probably not. But based on the unbridled, almost cult-like fervor of the crowd, the morning dance party movement will likely only continue to grow. And it was pretty special to pass by the Statue of Liberty and greet the Manhattan skyline at dawn in the middle of a crowd of revelers. We couldn't help but continue to feel the energy when we arrived at our desks afterwards.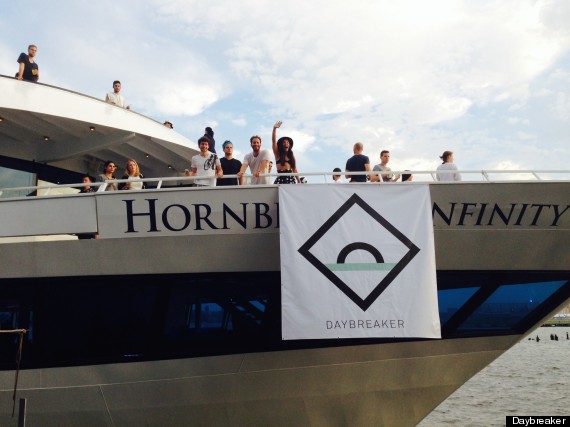 We spoke to a few other frolickers to find out what motivated them to set their own 5 a.m. wake up call that day:
"I'm here because there's no better way to start the morning with amazing people, music and atmosphere. When you wake up at the same time as the sun, it's a nice way to start the full day and get into a rhythm." - Scott Ritter, 23
"It's something different that people usually don't start their day with. This is one of those New York hidden gems really before it explodes." - Brandon W., 38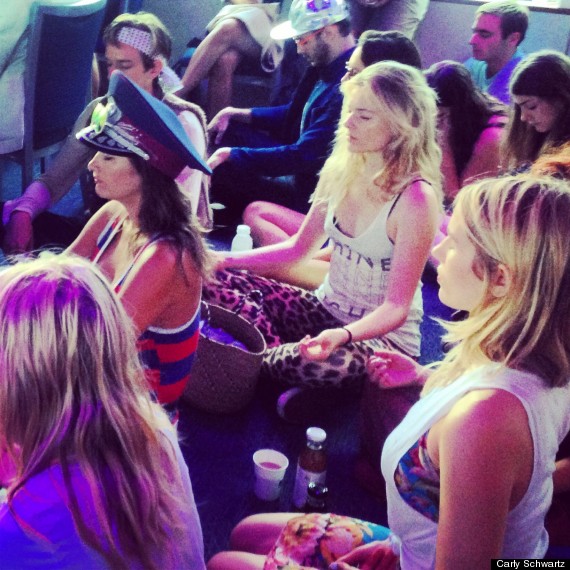 "It's better than the gym." - Erin Hinkle, 30
"Pure inspiration." - John Michael, 26
"Cause I'm from Colorado and we don't have this kind of stuff there at all." - Scott Meyer, 46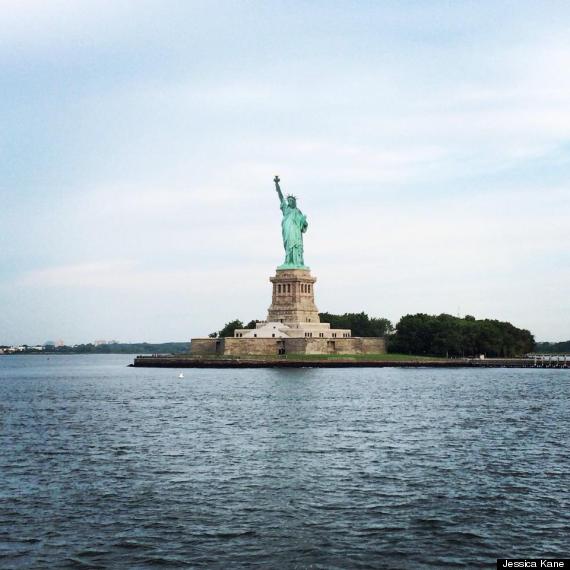 "You never need a reason to dance." - Sophie Dabuzhsky, 31
"I was at a One Direction concert last night and I thought, 'Why not continue dancing?'" - Rebecca Stadlen, 23
"I'm here to put the awake in spiritual awakening." - Mark Moelle, 34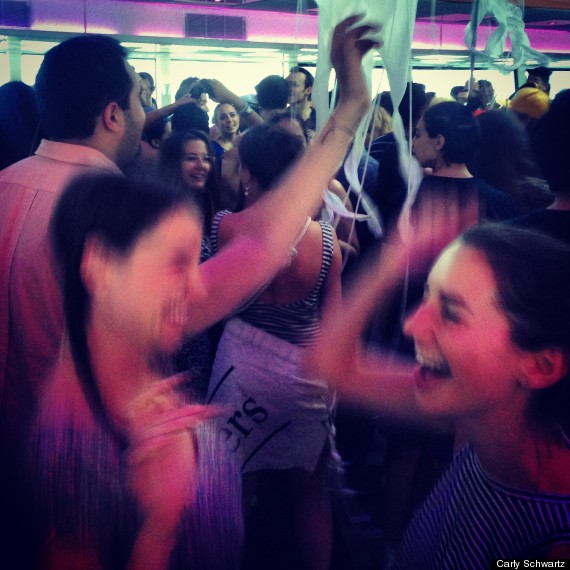 "I wouldn't miss a chance to go on a boat, and I'm going to be in a great mood once I get to work now." - Lidia Ryan, 26
"I quit my job so I'm trying to get to the jitney to the Hamptons after this. What better way to enjoy the summer?" - Alyssa Kane, 26
"I just danced so hard my brain is fried!" - Felicity Sargent, 28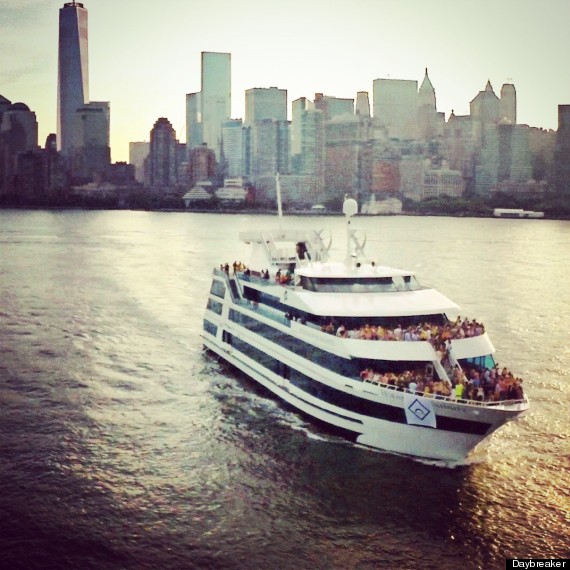 "The fact that New Yorkers came out here together just for the sake of enjoyment is beautiful to me." - Carina Skrande, 24
"The darkness of the morning instantly changes to light within five minutes of coming to this party." - John Wiseman, 34
"When you are here the positivity is contagious. As soon as the music starts your mood is buoyed up. It carries you through the day. By the time you leave, your face hurts from smiling so much." - Rebecca Fenner, 29
"I just wanted to hashtag #imonaboat." - Teresa Divencenzo, 24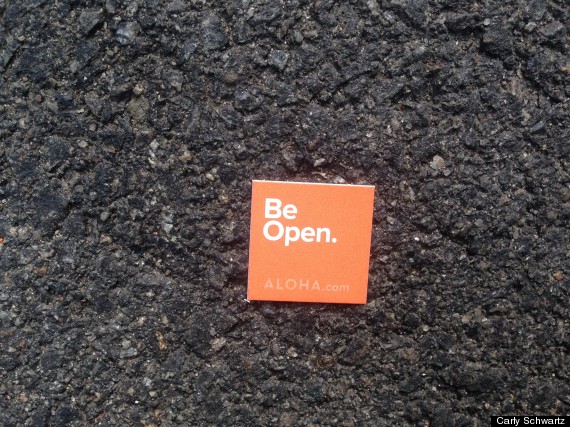 SUBSCRIBE TO & FOLLOW CULTURE SHIFT
Every Friday, HuffPost's Culture Shift newsletter helps you figure out which books you should read, art you should check out, movies you should watch and music should listen to. Learn more